Tomato Basil Soup with Roasted Chickpeas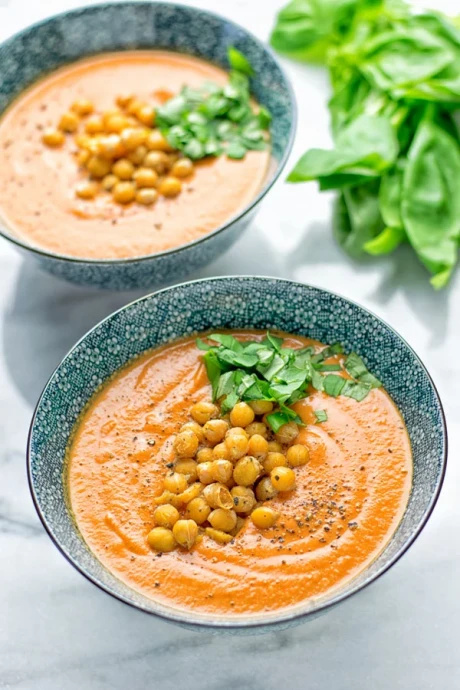 This Tomato Basil Soup with Roasted Chickpeas is not only stunning, but super easy, entirely vegan, gluten free and so incredibly satisfying. It is amazingly creamy, in and out packed with bold and robust flavors, super easy, you wouldn't believe me, but it's true, elegant, crowd pleasing, protein rich, fresh, and just as good as it sounds. When it comes to roasting chickpeas you will ask how to make chickpeas crispy. Of course you can use a lot of oil and fry or bake them. Oil makes chickpeas crispy, as you like them for a snack, as addition to a salad.
But for real what if I tell you you don't need oil to roast them! Yes, my mind was thinking about how to get crispy chickpeas without any oil. The trick is to use a bit of the aquafaba chickpea brine from your can. So no waste. Just mix reserved chickpea brine, in our case 3 Tbs, with chickpeas, garlic powder, nutritional yeast, and season with salt and pepper. Put the chickpeas on a baking sheet prepared with parchment paper (or use a small casserole). Bake them for 15 minutes until crispy at 415°F.
This will make a tasty lunch, dinner or something in between thinking about a great snack. It's also a fantastic dairy free alternative if you can't or don't want to eat dairy.
Ingredients:
2 15 oz cans chopped tomatoes
1/2 cup coconut milk
1 Tbs garlic powder
1/3 cup basil, finely chopped
salt, pepper to taste
1/3 cup cashews, optional
1 15 oz can chickpeas, reserve 3 Tbs chickpea brine liquid
1/4 cup nutritional yeast
2 tsp garlic powder
salt, pepper to taste