Bacon Shrimp Pasta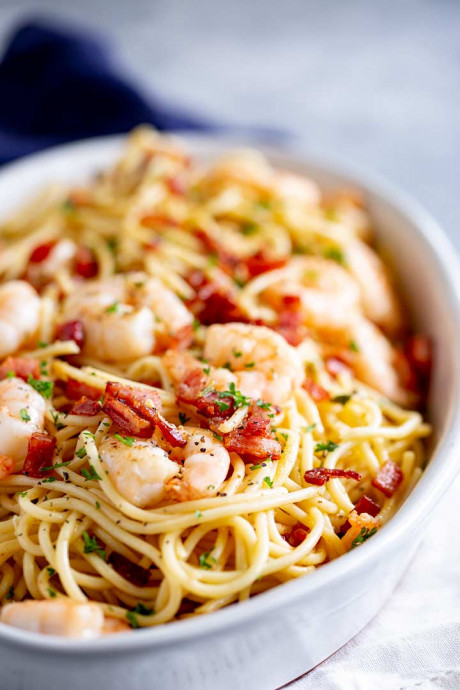 This Easy Shrimp and Bacon Pasta Recipe is absolutely delicious! It is perfect for an easy dinner with friends but quick enough for a busy weeknight meal! I guarantee it will be a crowd-pleaser! It tastes like something you would get in a family run Italian restaurant, but you can make it at home in under 25 minutes! (or even quicker if you have an electric kettle!) Which is why I love this recipe!
It is special and elegant, but so simple to make! The choice of shrimp these days is fabulous, but it can be overwhelming. I like to buy frozen raw shrimp! It means I can keep them in the freezer and know I always have something quick for dinner. Ideally, go for 20-25 or 26-30 count, which gives a good serving of shrimp per person – between 8-12.
With just a handful of ingredients that most people have in the fridge and freezer, you can quickly and easily whip up this shrimp pasta for dinner! I don't know about you, but shrimp pasta always feels just a little bit special!
Ingredients:
2 garlic cloves
1 lemon
6 slices bacon
1 tbsp olive oil
8 oz spaghetti – see note 1
1 tbsp salt
4 tbsp butter
1/2 cup dry white wine – see note 2
1 lb raw shrimp, peeled and deveined – see note 3
1/2 tsp salt
1/4 tsp black pepper
2 tbsp finely chopped fresh parsley leaves