Lemon Poppy Seed Muffins with Cream Cheese Glaze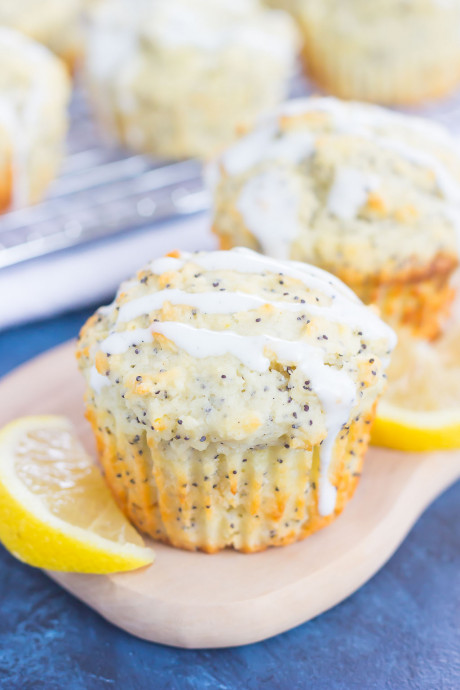 These Lemon Poppy Seed Muffins are soft, fluffy and bursting with flavor. Drizzled with an easy cream cheese glaze, these muffins are perfect for a simple breakfast or dessert! The preparation for these bakery style muffins couldn't get any easier. Muffins are my favorite baked good to make. I just love the ease of preparation and the endless flavors and unique combos that are just so delicious. Did I mention that it's a cream cheese glaze? This topping is so good that you'll want to just dig in with your spoon. Go ahead, I won't tell! With powdered sugar, a hint of vanilla and decadent cream cheese, it makes the perfect topping for these easy Lemon Poppy Seed Muffins. I find that using the juice and zest of one lemon is enough to flavor these muffins. However, if you prefer a stronger flavor, use the juice and zest of two lemons.
The best way to store muffins with glaze is in the refrigerator, as the cream cheese glaze might tend to soften or taste sour if sitting at room temperature. However, if you don't add the glaze, you can keep these lemon poppy seed muffins in an airtight container at room temperature for up to 4 days.
Ingredients:
Lemon Poppy Seed Muffins:
1½ cups all-purpose flour
¾ cup granulated sugar
1½ teaspoons baking powder
½ teaspoon salt
¼ teaspoon baking soda
2 tablespoons poppy seeds
¾ cup plain Greek yogurt
Juice and zest of one lemon
2 eggs
1½ teaspoons vanilla bean paste (or vanilla extract)
5 tablespoons unsalted butter , melted and cooled
Cream Cheese Glaze:
3 ounces cream cheese , softened
½ cup powdered sugar
½ teaspoon vanilla bean paste (or vanilla extract)
2-3 tablespoons milk (any kind)