Sour Cream Blueberry Bundt Cake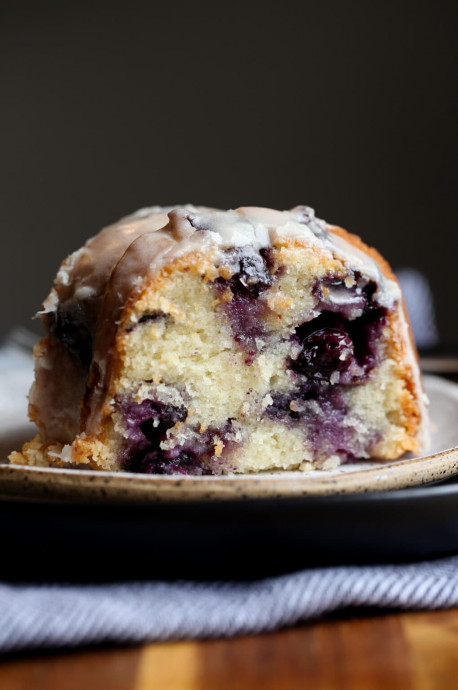 This Sour Cream Blueberry Bundt Cake is an easy and super moist and tender bundt cake bursting with fresh blueberries!
This cake is super simple to make, and it's really a great option for holiday brunch, a weekend breakfast, or even a dessert. The sour cream in the cake makes it so moist, without giving it any "sour cream flavor". I know a lot of you don't prefer sour cream, so note that you don't taste it at all! Fresh Blueberries or Frozen? Either! This cake is outstanding when blueberries are in season! But of course they aren't in season all year long…and since in my world it's always cake season I use frozen blueberries just as often as I use fresh. If using frozen blueberries: Thaw your blueberries, Rinse them, Pat them dry. Can You Use Other Fruit In This Cake? Yes you can! I've found that berries work best. Here are a few ideas: Blackberries, Raspberries, Strawberries. Note – These can sometimes make the cake a little "mushy" as strawberries release a decent amount of moisture as they bake. But it will still be good!
Ingredients:
1 cup butter, room temperature
1 1/2 cups granulated sugar
2 eggs
2 teaspoons vanilla
3/4 cup sour cream
1/2 teaspoon kosher salt
1 teaspoon baking powder
1 2/3 cups flour
1 1/2 cups blueberries (fresh or frozen and thawed)
Icing
2 tablespoons butter, melted
1 1/2 cups powdered sugar
1/2 teaspoon vanilla
1–2 tablespoons milk