Goat Cheese Stuffed Chicken Breast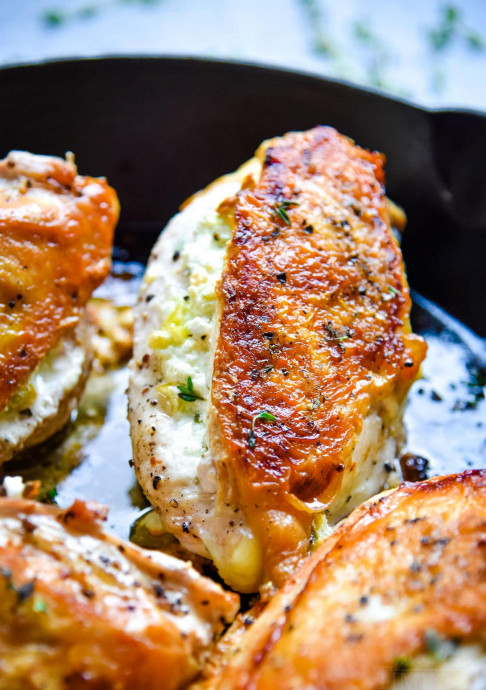 This easy Goat Cheese Stuffed Chicken Breast recipe tastes like it's from a 5-star restaurant! The creamy goat cheese filling adds amazing flavor and moisture to the chicken and that golden, crispy skin is irresistible! Quick and easy and perfect for weeknights and weekends!
I am a sucker for goat cheese. On anything, with anything and especially in anything. Particularly juicy pan seared, oven baked chicken breasts. This recipe is as simple as they come and yet tastes like a high end restaurant meal. We're talking 6 ingredients including salt and pepper my friends. I made this version with pepperoncini but there are SO many different ways to make this simple stuffed chicken breast recipe so, read on.
This recipe is super versatile, so versatile in fact, that there really aren't any side dishes that I wouldn't consider serving with this chicken recipe. Here are a few of our favorites: Mashed Potatoes, Baked Sweet Potato, Pea Salad, Creamy Cucumber Salad, Garlic Roasted Potatoes, Creamed Corn, Twice Baked Potatoes, and more. I love the flavor the skin and bone adds to the chicken breasts! So moist and delicious! You can absolutely make this recipe with boneless skinless chicken breasts, too! Store any leftovers in an airtight container in the fridge for up to 3 days.
Ingredients:
4 ounces goat cheese
1/4 cup pepperoncini finely chopped
1 1/2 teaspoons fresh thyme leaves finely chopped
salt and ground pepper to taste
4 bone-in, skin-on chicken breasts approximately 2 pounds