Crockpot BBQ Chicken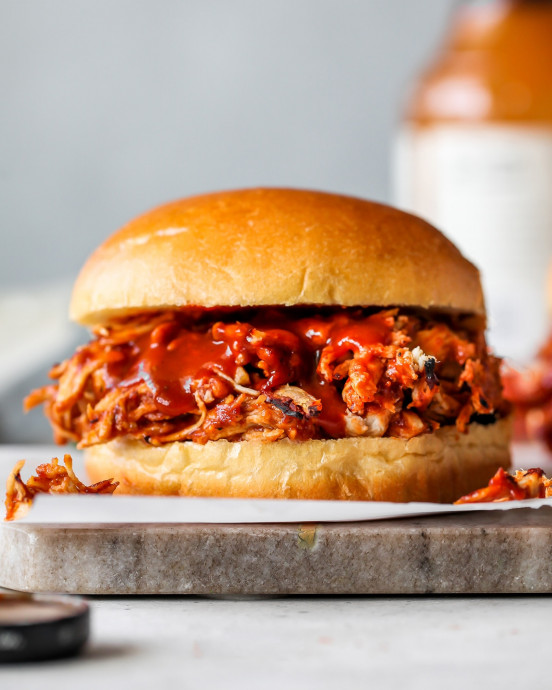 This easy Crockpot BBQ Chicken recipe is made with 6 ingredients and only takes a few minutes to prepare. This slow cooker BBQ chicken makes a delicious BBQ chicken sandwich, salad or pizza! Slow cooker BBQ chicken is one of my all-time favorite recipes. I love that it's easy to make and can be used in so many ways – from BBQ chicken sandwiches, to salads to pizza (with this homemade pizza dough of course).
This slow cooker barbecue chicken is made with only 6 ingredients and takes 5 minutes to prepare. It's the perfect meal for busy weeknights, or to easily feed a crowd. One of my favorite things about this slow cooker barbecue chicken is that everything is mixed in the crockpot, which means you use less dishes! Begin by adding water, 1 cup BBQ sauce, sea salt minced garlic and onion to the container of a slow cooker. Then whisk to combine. You don't have to put the BBQ chicken in the oven to crisp it, I just love the final texture and taste when that step is part of the cooking and never skip it! Store any leftover pulled BBQ chicken in an airtight container in the refrigerator for up to 1 week.
Ingredients:
2 lbs boneless skinless chicken breasts
½ cup water
1 ½ cups barbecue sauce divided
1 tsp sea salt
1 TBS minced garlic
1 cup red onion finely diced