Shrimp Cakes with Lemon Aioli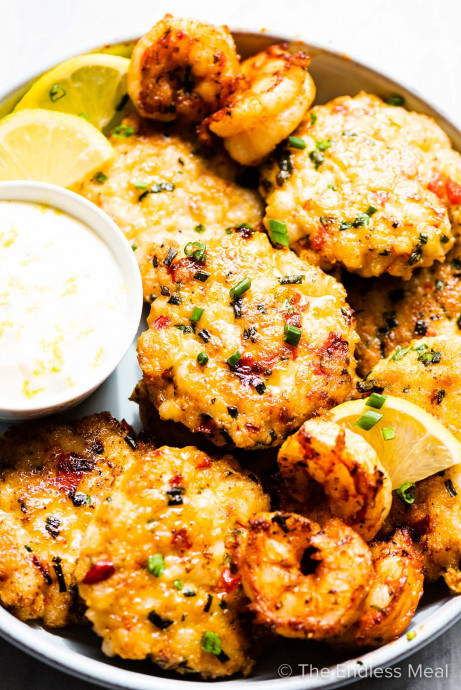 These tender shrimp cakes are absolutely delicious. They take only 10 minutes to make, can easily be prepped ahead of time, and make a great appetizer or light and healthy dinner. An easy lemon aioli sauce takes them over the top!
Serve these shrimp cakes with a creamy cucumber salad or a classic broccoli coleslaw. These little bites of pure joy are surprisingly easy to make and unbelievably tender and juicy. The flavor is spot on … not too much and not too little. Just right. They are delicious eaten on their own, but even better after a dunk into some lemon aioli. If you have ten minutes to prep and about five minutes to cook then you can have these guys on the table in next to no time. This is the kind of recipe that looks fancy but can just as easily be considered an emergency recipe for when you (your family/ roommates) are starving and need dinner stat. Or you can assemble them ahead of time then cook them right before serving. Time saver!
Ingredients:
1 lb peeled raw shrimp, chopped
½ cup almond flour
¼ cup EACH: chopped chives and red pepper
½ teaspoon EACH: salt and pepper
1 large egg
1 tablespoon cooking oil
LEMON AIOLI
¼ cup mayonnaise
Zest from 1 lemon + 1 tablespoon lemon juice
1 small garlic clove, finely minced