Quick & Comforting Chicken à la King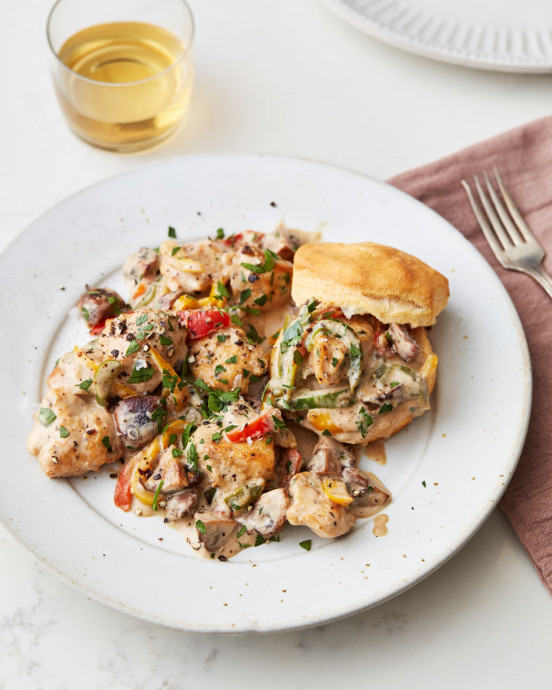 It's time to add some flair to your weekend chicken routine. Golden-brown bites of tender chicken are nestled in a sherry-spiked sauce with savory sautéed mushrooms and colorful peppers. It's a meal fit for royalty, but you won't need a kitchen full of cooks to get dinner on the table.
History dates this dish of chicken in creamy fortified wine sauce to the late 19th or early 20th century, and it may have actually had a stronger connection to the owner of a hotel than nobility. As decades passed, the homemade cream sauce was often replaced with a can of condensed soup.
If you've ever made gravy or homemade mac and cheese, you already know the basics of making a cream sauce. Sprinkle some flour over the buttery browned mushrooms and peppers and cook to remove the raw taste — it only takes a minute. Heavy cream gives the sauce a rich, velvety texture while sherry — a fortified wine — adds an elegant flavor to the sauce. Make sure to serve the dish over egg noodles, rice, or biscuits to soak up the deliciously creamy sauce.
Ingredients:
8 ounces cremini mushrooms
2 tablespoons chopped fresh parsley leaves
1 1/2 pounds boneless, skinless chicken breasts
1 teaspoon kosher salt, divided
1/2 teaspoon freshly ground black pepper, divided
4 tablespoons (1/2 stick) unsalted butter, divided
2 cups frozen sliced bell peppers and onions
3 tablespoons all-purpose flour
1 cup half-and-half or whole milk
1 tablespoon medium dry sherry
Cooked biscuits, rice, or egg noodles, for serving