Lemon Lavender Shortbread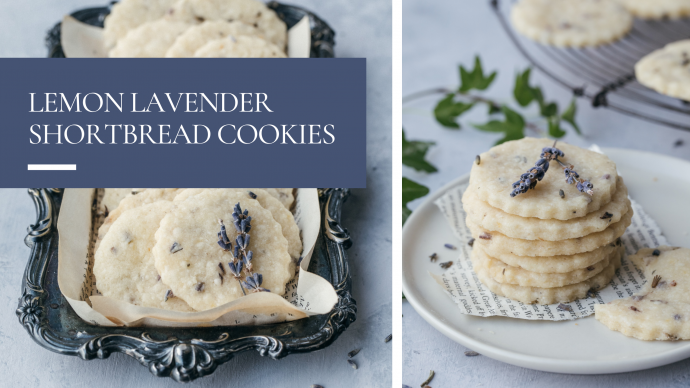 Fill your kitchen with the sweet and aromatic flavors of these simple floral inspired shortbread cookies. Buttery, rich and delicately balanced with dried lavender, they're easy to make and delicious served with cup of coffee or as a gift to share with family and friends.
If you've never added lavender to your homemade pastry, it's something you should definitely try. It's easy to find culinary lavender at tea or spice shops, specialty food store or online. These cookies are the perfect fall time treat, they are rich, soft and buttery with what I think is the perfect balance of lemon and lavender. I think you will really love the way the lavender pairs with the lemon.
Ingredients
6 tablespoons unsalted butter, softened
3 tablespoons sugar
¼ teaspoon vanilla extract
¾ cup all-purpose flour
Grated zest of ¼ lemon
1 tsp fried lavender flowers
¼ teaspoon salt
Directions
Step 1
Beat the butter, sugar, and vanilla in a mixer with the paddle attachment on medium speed just until mixed together, about 1 minute. Add the flour, zest, lavender, and salt. Beat on low speed just until the dough forms a ball.
Step 2
Form the ball of dough into a log. Wrap tightly in plastic wrap and refrigerate until firm (or freeze for up to 1 month; if frozen, thaw overnight in the refrigerator before baking).
Step 3
Preheat the oven to 350°F.
Step 4
Cut the log into ¼-inch-thick slices and arrange on an ungreased cookie sheet, spacing the rounds 1 inch apart. Bake until golden brown and crisp, about 8 minutes. Let cool completely on a wire rack. When the cookies are cool, top with a sprinkle of the remaining lavender flowers, pressing down slightly to allow them to stick into the cookies.
Tip
If desired, roll the log of dough in raw sugar or chopped nuts before freezing to add a nice texture and flavor to the finished cookies. Garnish with sugar and dried lavender.
Bon appétit! Enjoy!