Easy Quinoa with Pesto and Spinach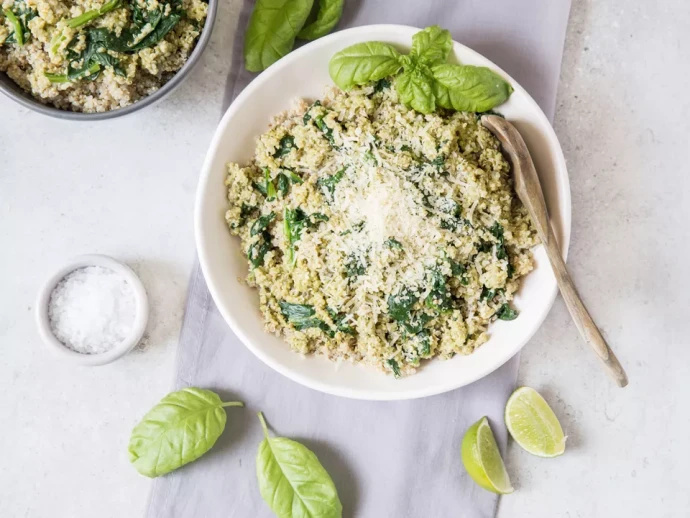 Get dinner on the table in 20 minutes with this powerfully healthy pesto quinoa bowl. It's an excellent vegetarian entree, and super-easy to make with prepared pesto sauce. Top it off with some freshly-grated Parmesan cheese or nutritional yeast for the perfect finishing touch.
Quinoa and spinach are a powerfully healthy combination. The addition of pesto makes this entree absolutely delicious, and with nothing more than some cooked quinoa, fresh spinach, and some cheese or nutritional yeast to top it all off, this is a super quick and easy way to get a meal on the table. Add some oven-roasted vegetables, either roasted red peppers or tomatoes, if you want to round it out a bit more.
Also, since it's truly a one-dish meal, so it's a great option for anyone cooking with just one burner, like student dorm residents or anyone cooking from a hot plate.
This recipe is vegetarian, and it can be vegan if you're using a vegan pesto and nutritional yeast in place of the Parmesan cheese. If you need it to be gluten-free as well, just cook the quinoa in water instead of vegetable broth, and, while your pesto should be gluten-free, it never hurts to double-check the ingredients list if you're using store-bought.
Ingredients:
1 cup quinoa (rinsed)
2 cups water or vegetable broth
Large handful fresh spinach
1/4 cup prepared vegetarian pesto
1/2 teaspoon fresh lemon or lime juice
Salt (to taste)
Pepper (to taste)
Optional: 2 tablespoons fresh grated Parmesan cheese (or nutritional yeast)