Make-Ahead Croissant Breakfast Sandwiches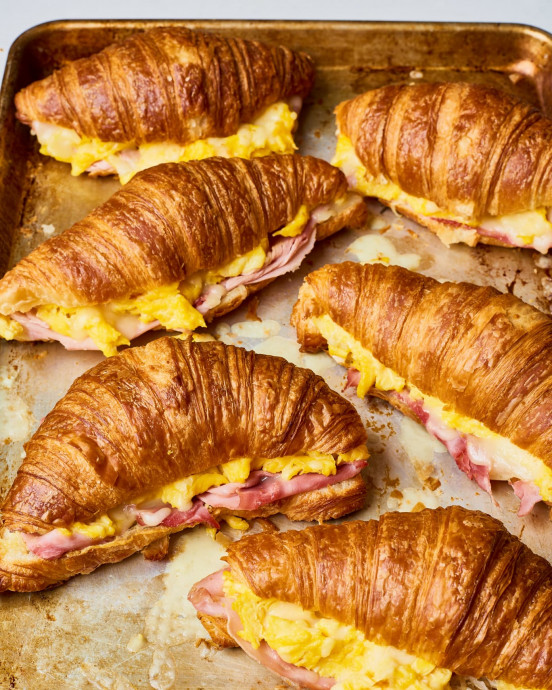 Add these warm and cheesy breakfast sandwiches to your meal prep, and you'll thank yourself many times over in the days to come. These croissant sandwiches lend themselves so well to batch cooking: Once the eggs are scrambled, you'll spoon them onto buttery croissants, layer with slices of ham, and top with grated cheddar.
Then, you can bake the sandwiches to eat right away, or wrap them up and store them in the fridge for a few days or in the freezer for up to three months. Pop one in the oven first thing in the morning, and you've got a satisfying homemade breakfast to be proud of. All it takes is a flaky, buttery croissant and a swipe of Dijon to take the classic ham, egg, and cheese breakfast sandwich from basic to brilliant. These sandwiches make even grocery store croissants feel kinda fancy — a 10-minute trip to the oven softens their centers and draws out all the buttery goodness from their flaky shells, crisping them up for the perfect crunchy bite. At the same time, the cheese becomes melted and gooey and the soft-scrambled eggs warm to perfection.
Ingredients:
12 large eggs
1/2 cup whole milk
1 teaspoon kosher salt
1/4 teaspoon freshly ground black pepper
1 tablespoon unsalted butter
6 croissants, halved horizontally
2 tablespoons Dijon mustard
6 slices thinly sliced deli ham (about 4 ounces)
1 1/2 cups shredded sharp cheddar cheese (about 6 ounces)