Honey Walnut Shrimp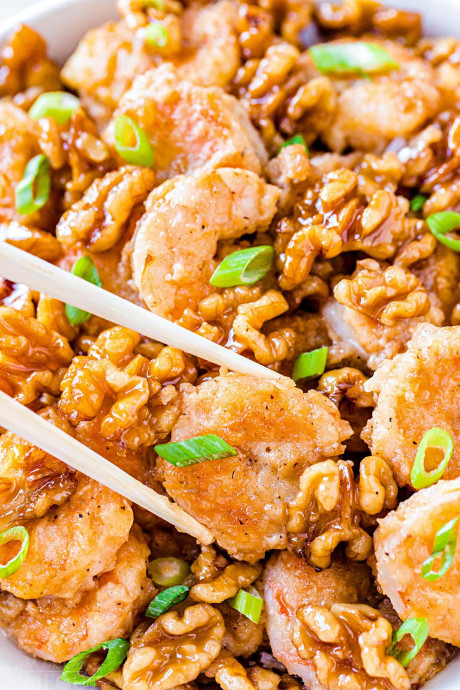 This easy Honey Walnut Shrimp recipe takes just 30 minutes to make! Crispy shrimp are coated in a dreamy, creamy honey sauce and topped with candied walnuts. A total showstopper and so much better than takeout! There is something so special about this Honey Walnut Shrimp recipe. It feels extremely decadent and definitely worthy of a special occasion.
The shrimp is coated in egg and cornstarch and then lightly fried for a fabulously crispy coating and then tossed together with the candied walnuts and a sweet and tangy sauce made with just 4 ingredients. It's better than takeout for sure! The recipe looks complicated but it's really not! In fact, this is definitely in our weeknight dinner rotation. We love to serve it over white or brown rice – so good! Although I would imagine you will find the majority of these ingredients in your pantry, there are a few items here that you're probably going to need to add to your shopping list.
This recipe comes together in three steps: making the candied walnuts, cooking the shrimp, making the sauce. I like to garnish with some slice green onions for a quick pop of color and bright, fresh flavor.
Ingredients:
Candied Walnuts
1 cup water
1 cup brown sugar light or dark
1 ½ cups walnut halves
Shrimp
1 pound large shrimp raw, deveined, peeled
½ teaspoon salt
¼ teaspoon pepper
3 eggs
⅔ cup cornstarch
1 tablespoon butter salted
1 tablespoon extra virgin olive oil
Honey Sauce
¾ cup miracle whip or mayonnaise
3 tablespoons honey
3 tablespoons heavy cream
½ teaspoon soy sauce low sodium
Garnish
green onions
serve with white or brown rice