Ham, Asparagus & Gruyère Tart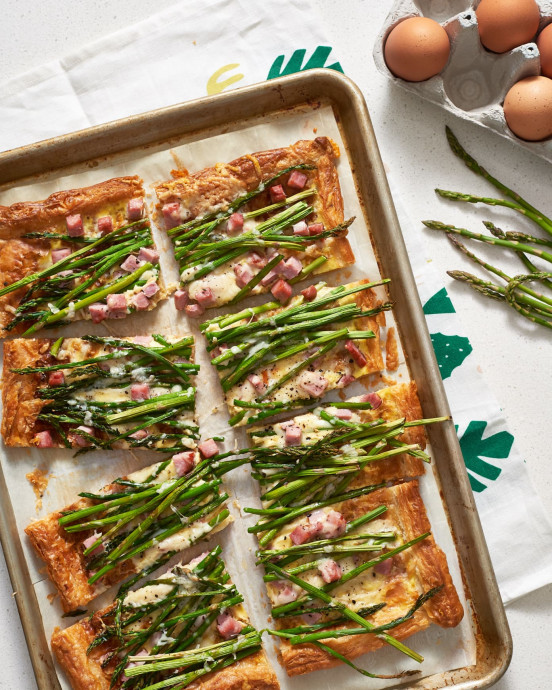 Celebrate the arrival of spring asparagus with this tart. Serve it as easy-fancy hors d'oeuvres, or tucked next to a green salad for brunch or lunch. It starts with a buttery puff pastry base and a thin layer of egg, melty Gruyère cheese, and diced ham. A tumble of tender spears of roasted asparagus top the tart and sing the song of spring with their sweet and earthy, vegetal flavor.
There's no need to precook the asparagus, but you'll want to start with the thinnest asparagus you can find so that it cooks quickly. If you can only find thick asparagus, cut each spear in half lengthwise and lay them cut-side down in the egg base. And speaking of the egg base, we added a few teaspoons of Dijon mustard to the custard, which gives it a doubly savory flavor that complements the ham and cheese especially well. Served warm or at room temperature, the tart is tasty either way and will disappear quickly.
Ingredients
1 (14- to 17-ounce) package frozen puff pastry (preferably all-butter), thawed in the refrigerator
1 pound asparagus, preferably thin
2 large eggs
1/3 cup whole or 2% milk
2 teaspoons Dijon mustard
1/4 teaspoon kosher salt
1/8 teaspoon freshly ground black pepper
1 cup small-dice cooked ham (about 5 ounces)
1 cup grated Gruyère cheese, divided (about 4 ounces)