Strawberry Key Lime Banana Protein Smoothie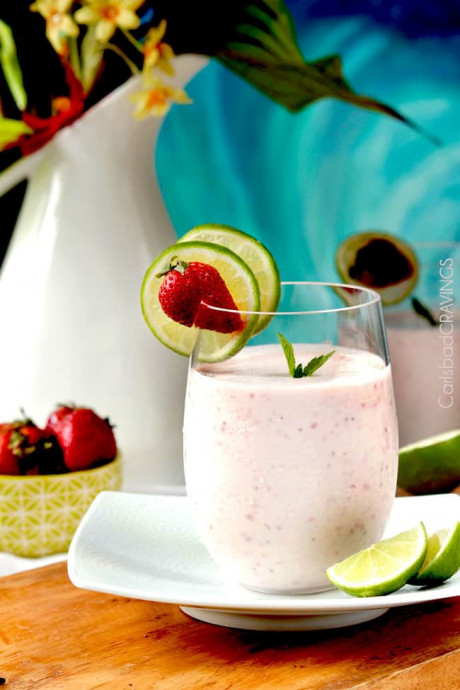 This is an easy, refreshingly cold, creamy Strawberry Banana Protein Smoothie is so silky and creamy thanks to the vanilla protein powder and frozen banana with a perfect kiss of sweetness from the key lime Greek yogurt and frozen strawberries. I love how easy it is to keep these ingredients on hand so whenever I am craving something out-of-this-world that only takes 5 minutes to whip up, my cravings can be satisfied. And stay satisfied for hours.
So simple. So healthy. So delicious. So perfect. So ready for you to indulge your taste buds in its guilt free deliciousness. The escape you deserve. Today. And every day.
This healthy strawberry banana smoothie is made with minimal ingredients: Vanilla protein powder: Use your favorite brand. Any kind will work! Coconut milk: You want to use coconut milk from a carton, not the canned kind used in stir-fries. Key Lime Greek Yogurt: Can also use strawberry or banana yogurt to amp up the strawberry-banana flavor. Banana: I recommend freezing your banana in small chunks so your blender can more easily process it. Strawberries: I prefer using frozen strawberries so I don't have to dilute my smoothies with ice cubes. You can prep all the ingredients, throw them into a freezer baggie, and freeze until you're ready to blend up your smoothie!
Ingredients:
2 scoops vanilla protein powder
1-2 cups coconut milk (depending on desired thickness)
1 5.3 oz. Key Lime Greek Yogurt
1 ripe frozen banana
1 cup frozen strawberries
key lime juice (optional - I didn't use)