Creamy Mozzarella Scallop Pasta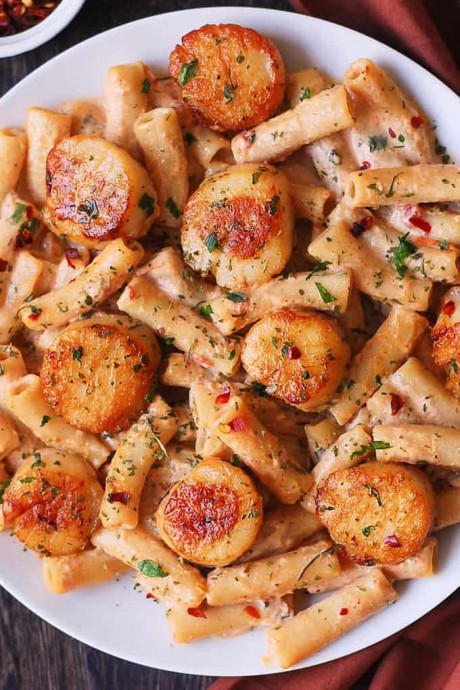 Creamy Mozzarella Scallop Pasta is one of the best pasta recipes you'll ever try! Finger-licking good, easy-to-make, and your scallops will have the perfect texture! My favorite way to cook scallops is to sear them in olive oil or butter on the stovetop in the skillet. What you get are beautifully pan-seared scallops with a golden crust and a soft texture. This is exactly what I've done in this scallop pasta recipe. I seared the scallops to perfection and served them with pasta.
Scallops always go really well with a cream sauce so I combined my favorite cream sauce (made with Mozzarella cheese, garlic, sun-dried tomatoes, basil, and red pepper flakes) with scallops and penne pasta! This scallop pasta makes a delicious weeknight dinner that's easy to make but looks like a dish from a high-end restaurant!
In this recipe, I combine pan-seared scallops with the creamy pasta to create a completely different scallop recipe from the ones I published previously. This recipe is all about the scallops and the creamy pasta made with the Mozzarella cheese, sun-dried tomatoes, garlic, basil, and red pepper flakes. I use penne pasta that goes great with scallops. Penne is a short pasta, so the cream sauce coats every bite. You can also use spaghetti, fettuccine, or angel hair pasta. If you want something other than pasta, seared scallops go great with mashed potatoes, rice, roasted asparagus, and other roasted veggies.
Ingredients:
8 oz penne pasta (for gluten free version, use gluten free brown rice pasta)
2 tablespoons olive oil
4 oz sun-dried tomatoes , without oil
4 garlic cloves , minced
1 cup half-and-half
1 cup mozzarella cheese , shredded (do not use fresh Mozzarella, use pre-shredded Mozzarella)
1 tablespoon dried basil , if using fresh basil you can add more
1/4 teaspoon red pepper flakes , crushed, add more to taste
1/8 teaspoon paprika
1/2 cup reserved cooked pasta water or more
1/4 teaspoon salt
1 pound scallops , medium size, about 12-14 scallops, thawed completely if frozen
1/4 teaspoon salt
2 tablespoons olive oil