5-Ingredient Loaded Totchos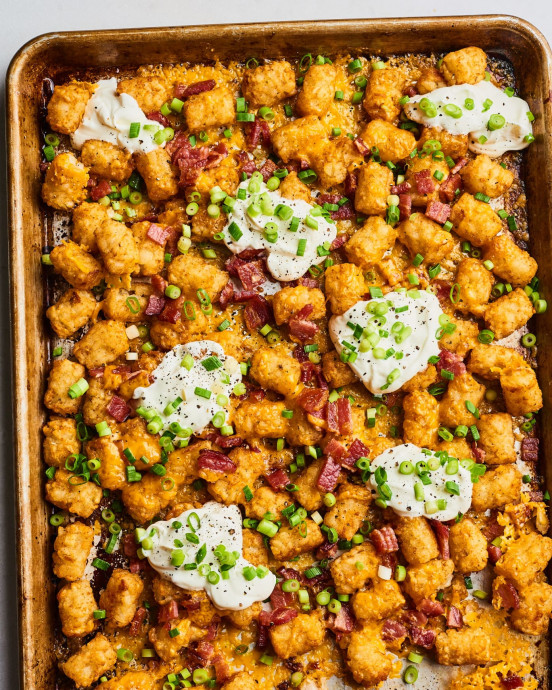 Totchos are simply tater tots that are treated like nachos. They're baked in the oven (preferably for a few extra minutes for maximum crispiness!), loaded with cheese and bacon, returned to the oven, then topped with the best loaded potato fixins, including sour cream and scallions.
Get a head start by cooking the bacon ahead of time, or slide it in the oven when you put the tater tots in. The oven temp for the tots will be a little higher than our go-to method for bacon, so plan to cut a few minutes off the bacon's cook time. It's best to start checking at about the 10-minute mark, then every couple of minutes after that until it's crispy.
When the totchos are ready, serve them directly from the sheet pan, or use a wide spatula to slide the whole thing onto a platter. Tater tots already fall squarely into comfort-food territory. But bake them like a tray of nachos and dress them up like a loaded baked potato, with plenty of sharp cheddar, crumbles of salty bacon, and generous dollops of sour cream, and be prepared to enter a whole new level of comfort-food bliss.
Ingredients:
1 (32-ounce) bag frozen tater tots
1 1/2 cups grated sharp cheddar cheese (6 ounces)
8 strips bacon (about 8 ounces), cooked and crumbled
1/2 cup sour cream
3 medium scallions, thinly sliced