White Chicken Lasagna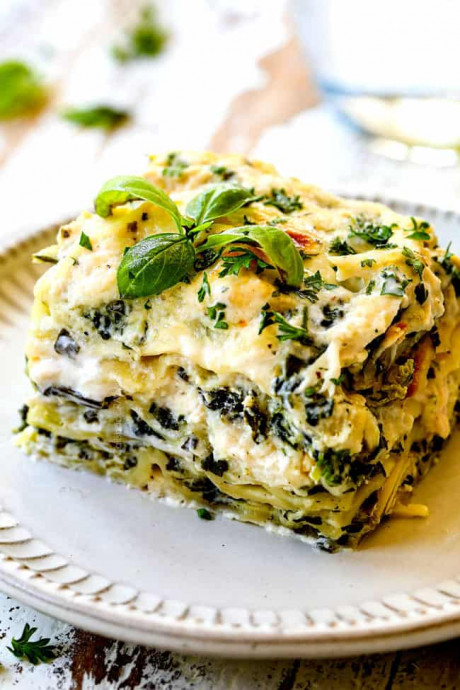 This White Chicken Lasagna is rich, satisfying, comforting, flavorful and boasts towering layers for the ultimate flavor and texture. It's loaded with three layers of pasta, homemade chicken Alfredo sauce, creamy ricotta (with a secret trick) spiked with spinach and artichokes, and gooey mozzarella cheese. Every bite is a creamy, dreamy, cheesy thrill. I've included everything you need to know about how to make this Chicken Lasagna recipe, how to make ahead and how to freeze. Your search for the BEST Chicken Alfredo Lasagna stops here!
A few more reasons to love white lasagna: Crowd pleaser. White Lasagna is always a homerun. It's essentially chicken Alfredo + lasagna = everyone's dream. From the kids to teenagers, to adults and grandparents, Chicken Lasagna satisfies everyone's cravings – and then some. Makes a generous amount. This chicken Alfredo lasagna recipe makes a hearty casserole with many layers so it is perfect for large crowds, dinner parties or company. Less Expensive. Although this Chicken Lasagna tastes every bit as decadently delicious as your favorite restaurant, you can feed your entire family + plus leftovers for the price of one fine dining slice. Freezer friendly. Many white sauce pastas don't freeze well but this Chicken Lasagna freezes like a champ! You can freeze it for busy days ahead or for gifts for new moms or when someone has had surgery. You can also double the batch and eat one lasagna casserole for dinner and freeze the other.
Make Ahead. One of my favorite aspects of this white lasagna recipe is that you can assemble it the night before, refrigerate and then bake the next night for dinner with zero prep it it tastes even better baked the next day! Winner, winner Chicken Lasagna dinner!
Ingredients:
15 classic lasagna noodles not no-boil
1 pound shredded mozzarella (4 cups)
5 tablespoons unsalted butter (may sub half olive oil)
8 garlic cloves minced
1/3 cup all-purpose flour
2 cups low sodium chicken broth
3 cups half and half
1 tsp EACH onion powder, dried parsley, dried basil, dried oregano, salt
1/2 tsp EACH dried thyme, pepper, chicken bouillon, red pepper flakes
2 cups freshly grated Parmesan cheese
3 cups shredded Rotisserie chicken
2 eggs
3 cups whole milk ricotta cheese
1 cup full fat sour cream
1/2 cup freshly grated Parmesan cheese
1/4 cup chopped fresh basil or 1 tablespoon dried
1/2 tsp EACH salt, pepper
1/4 teaspoon nutmeg
1 14 oz. can artichoke hearts chopped
16 oz. frozen chopped spinach thawed