Slow Cooker Lentil and Mushroom Bolognese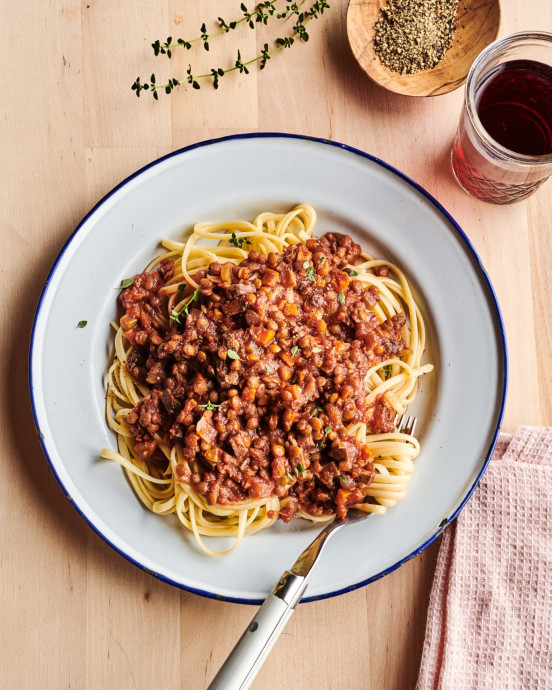 If you're craving a hearty plant-based pasta sauce, look no further than this lentil and mushroom slow cooker "Bolognese." It's a mega "meaty" vegetarian alternative to classic Bolognese, in which baby bella mushrooms and protein-packed green lentils stand in for ground beef.
Besides being incredibly flavorful and filling, I think you'll love how easy it is to make. Once the ingredients are in the slow cooker, there's no additional stirring or fussing required. As it cooks, the sauce takes on a deep, rich flavor that can only come from all-day cooking.
Bolognese sauce is traditionally served with tagliatelle or pappardelle pasta — the thicker noodles hold up to heavier sauces. That said, I like any long noodle that I can twirl around a fork. This bolognese is also great over zoodles, used as a filling for lasagna, or served with cauliflower gnocchi.
Ingredients:
8 ounces baby bella or cremini mushrooms, finely chopped
2 celery stalks, finely chopped
2 carrots, finely chopped
1 small onion, finely chopped
2 garlic cloves, minced
1 cup small dried green lentils
1 cup vegetable broth
1/2 cup red wine
2 ounces tomato paste
1 (28-ounce) can crushed tomatoes
2 bay leaves
2 teaspoons kosher salt, plus more for seasoning
1/4 teaspoon freshly ground black pepper, plus more for seasoning