Pasta With Grapes And Creamy Dijon Sauce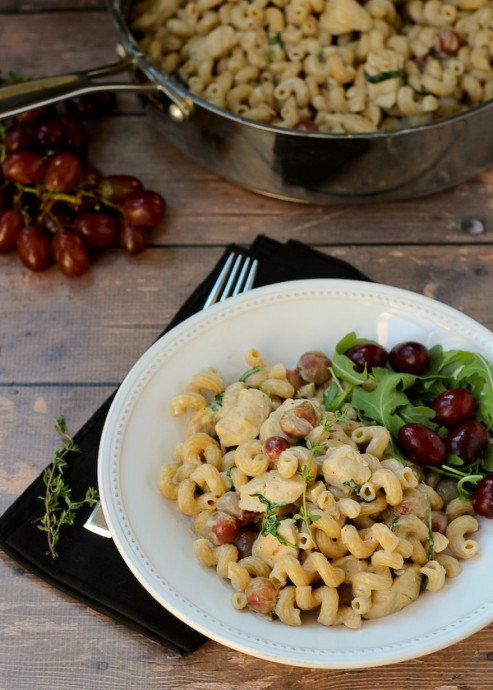 With a tangy and rich creamy Dijon sauce, this unique pasta dish will delight everyone when they find sweet red California grapes alongside chicken and arugula. You might be raising your eyebrows at the thought of mixing red grapes with chicken and pasta but I'm telling you, it works. The sweetness of the grapes is such a terrific contrast against the richness of this dish and the tangy spiciness of the Dijon mustard. The grapes brighten the dish and are an unexpected pleasant surprise.
Pasta with creamy Dijon sauce makes a great weeknight meal but it would also be a pretty impressive meal to serve to guests. It's easy to make and completely manageable. If you're thinking, "Why grapes?" here are just a few reasons:Grapes of all colors – red, black and green – are a natural source of beneficial antioxidants and other polyphenols. Grapes are also an excellent source of vitamin K which plays a key role in helping blood to clot in order to prevent excessive bleeding, and may also be important in bone health.
Ingredients:
3/4 pound pasta (I used whole wheat Fusilli Bucati)
1 tablespoon unsalted butter
1 tablespoon olive oil
2 large shallots, thinly sliced (about 1/2 cup)
1 1/2 to 2 pounds chicken breasts or tenderloins, cut into bite-sized pieces
2 cups whole red grapes from California, washed and stems removed
1 tablespoon fresh thyme leaves
1/2 cup dry white wine
1 cup chicken broth
2 tablespoons Dijon mustard
3/4 cup heavy cream
1 1/2 teaspoons cornstarch
2 tablespoons water
1 1/2 cups lightly packed fresh baby arugula