Blue Velvet Cake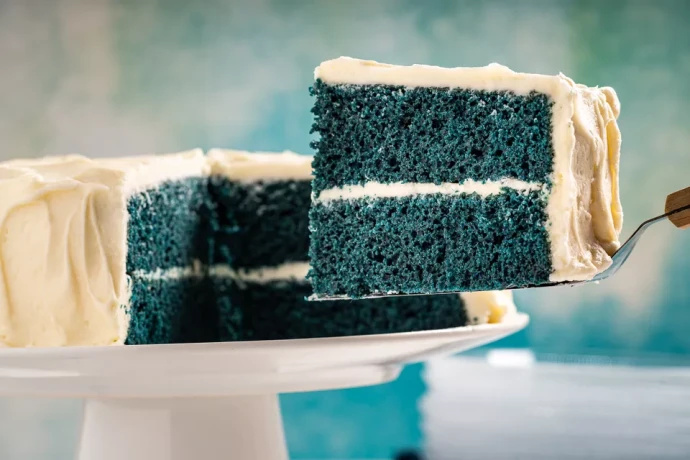 If you love the delicate texture and bold color of red velvet cake, you will love this fun twist: blue velvet cake. The flavor of blue velvet cake is the same as a red velvet cake—fluffy vanilla cake with a hint of chocolate slathered in tangy cream cheese frosting. It's easy to make a blue velvet cake from scratch with a blend of cocoa powder, vinegar, buttermilk, and bright blue food coloring. This combination of ingredients softens the proteins in the cake flour resulting in a finer, smoother texture than other cakes—thus the term "velvet cake."
To achieve a beautiful blue hue, it is necessary to use a combination of royal blue food coloring as well as a toothpick-full of violet food coloring. That extra small dash of violet helps create the proper color without turning the cake turquoise in color. It is also recommended to use paste food coloring rather than liquid or gel food dye to better achieve the desired color.
A blue velvet cake is perfect for serving at a gender reveal party or baby shower for a little boy, as well as for the 4th of July or a colorful birthday party. With a thick layer of cream cheese frosting, it's easy to hide the blue color of the cake, making it a fun surprise.
Ingredients:
1 1/2 cups sugar
1/2 cup unsalted butter (softened)
2 eggs
1 tablespoon white vinegar
2 teaspoons royal blue paste food coloring
1 toothpick violet paste food coloring
1 teaspoon vanilla extract
2 1/4 cups cake flour
2 tablespoons unsweetened cocoa powder
1 teaspoon baking soda
1 teaspoon salt
1 cup buttermilk
For the Cream Cheese Frosting:
1 pound powdered sugar
1/2 cup unsalted butter (softened)
8 ounces cream cheese (softened)
1 teaspoon vanilla extract