Honey Lime Chicken Enchiladas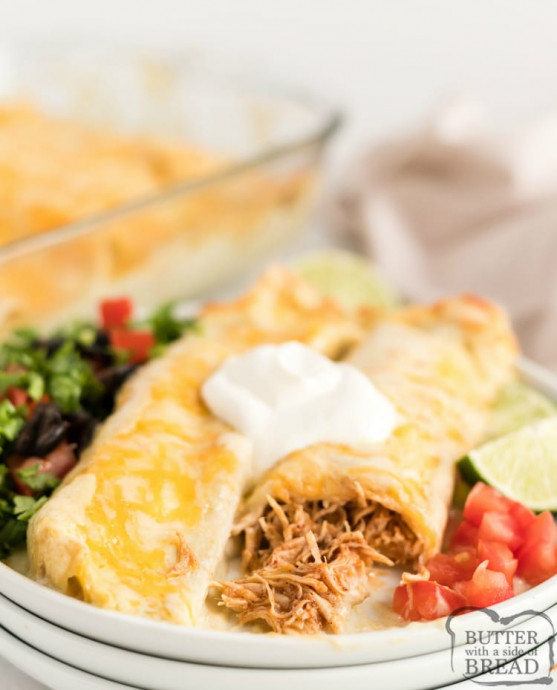 Honey Lime Chicken Enchiladas are made with a little bit of honey, a little bit of lime and a delicious creamy green sauce. This easy chicken enchilada recipe is so simple and the flavors are incredible! Honey Lime Chicken Enchiladas are made by marinating the cooked chicken in a lime juice, honey, chili powder and garlic mixture for about an hour. Just this one little step adds so much flavor to the chicken enchilada recipe! I also love that this recipe doesn't call for sour cream or canned soup – the sauce is made with just green enchilada sauce, cream and milk.
I have always loved chicken enchiladas and have tried several different recipes that are very similar and they have all been good. Some of my friends have been raving about this particular recipe for a while now and so I finally decided to give it a try for a family dinner and it was a big success! The honey and lime marinade for the chicken adds fantastic flavor and a fun little twist on a time tested classic dish! I like to top my enchiladas with sour cream, avocado/guacamole and salsa, but feel free to add anything you want on top! I like to have rice and beans with my enchiladas too, and these Instant Pot Refried Beans have become my recent favorite to make with any Mexican dish – they are soooo good!
Ingredients:
1/4 cup honey
1/4 cup lime juice
2 tsp. to 1 Tbsp. chili powder to taste (I used 2 tsp and it still had a pretty good kick to it so be careful not to make the mixture too spicy!)
2 large garlic cloves finely minced
2 large chicken breasts cooked and shredded
8 flour tortillas
3 cups Mexican cheese blend shredded
2 - 10 oz cans green enchilada sauce
1/2 cup heavy cream
1/4 cup milk