Swiss & Cheddar Cheese Fondue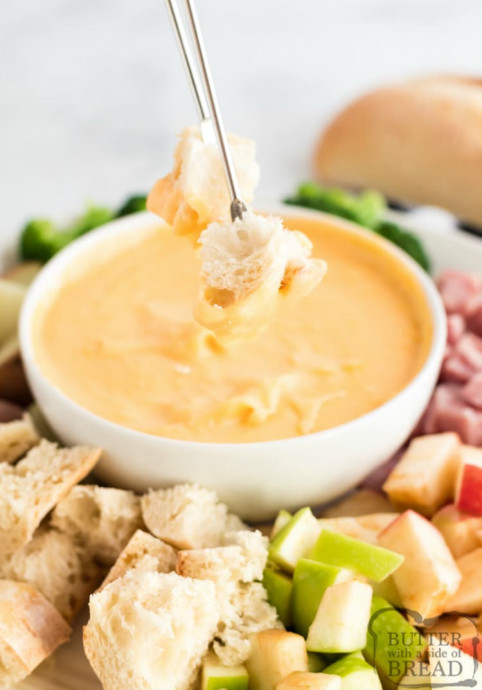 Swiss & Cheddar Cheese fondue is an easy appetizer recipe that is perfect for holiday dinners, parties and family gatherings! This delicious fondue recipe comes together in just a few minutes with a few simple ingredients – it is so easy to make and everyone loves it!
Swiss and Cheddar Cheese Fondue is one of my all-time favorite, go-to fondue recipes! I can't believe I haven't posted it before now! For years I thought that fondue was really hard to make and something that you could only eat when you went to the Melting Pot for dinner! And then I found this fondue recipe and realized how easy it is to make at home. I even think this homemade version tastes as good, if not better than the restaurant version!
You can use a fondue pot and fondue forks (my kids absolutely love eating with them!), but you can also just use a regular saucepan to make this delicious cheese fondue. You can use a fondue pot to make cheese fondue, but you definitely don't have to. I have an electric fondue pot that I love, but I've made this recipe in a regular saucepan dozens of times and it works just as well. If you are using a fondue pot, you want to make sure that you keep the heat down fairly low so you don't scorch the cheese. I keep mine almost all the way down to low and everything melts very quickly.
Ingredients:
1 1/2 Tbsp. butter
1 Tbsp. cornstarch
1/2 tsp. salt
1 cup milk
1 cup Cache Valley shredded Mild Cheddar cheese
1 cup Cache Valley shredded Swiss cheese
Dippers for fondue ham, french bread, apples, potatoes, veggies, etc