Crispy Roasted Parmesan Chickpeas with Spiced Ranch Dip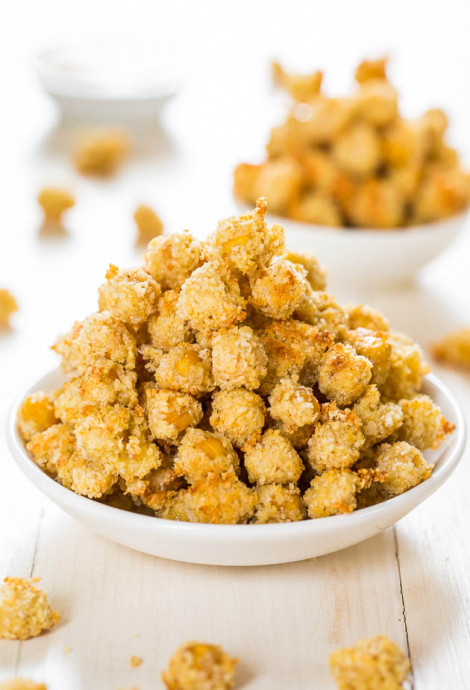 It took restraint not to eat the whole batch of these crispy, slightly crunchy, Parmesan-coated chickpeas. Add some creamy dip into the mix, and I was in appetizers-that-spoil-my-dinner heaven. You can use the basic battering, breading, and baking technique with zucchini (stay tuned), asparagus, cauliflower, broccoli, mushrooms, or most anything in your vegetable drawer. The breading on the chickpeas is crispy, crunchy, and perfectly complements the soft beans inside. Every time I use this technique, I'm pleasantly surprised at how really crispy things turn out. No frying required.
I used and recommend Panko breadcrumbs. They're Japanese-style breadcrumbs and are sold nearby regular breadcrumbs, but they're larger, coarser, and get crispier in the oven. To finish off this easy appetizer, there has to be dip. I love dip and it's an absolute requirement. This one is creamy, mildly spicy yet cooling, and I want to dunk everything in it. Rather than using Ranch, you can try sour cream, mayo, or Blue cheese dressing. Small, bite-sized, highly poppable food like this is perfect for game days, parties, or an average weeknight. Watch how fast a bowl of this mini comfort food disappears.
Ingredients:
Chickpeas
one 15-ounce can chickpeas (garbanzo beans), drained and rinsed
1/2 cup all-purpose flour
2 large eggs, lightly beaten
1 cup Panko breadcrumbs
1/2 cup grated Parmesan cheese (fresh or green can)
1 teaspoon Cumin, ground
1 teaspoon Oregano Leaves
1/2 teaspoon White Pepper, ground
1/4 teaspoon Red Pepper, ground
pinch salt, optional and to taste
Ranch Dip
1/3 cup Ranch salad dressing (storebought or homemade
1/2 teaspoon Cumin, ground
1/2 teaspoon Oregano Leaves
1/2 teaspoon White Pepper, ground
1/4 teaspoon Red Pepper, ground