Meatball Sub Recipe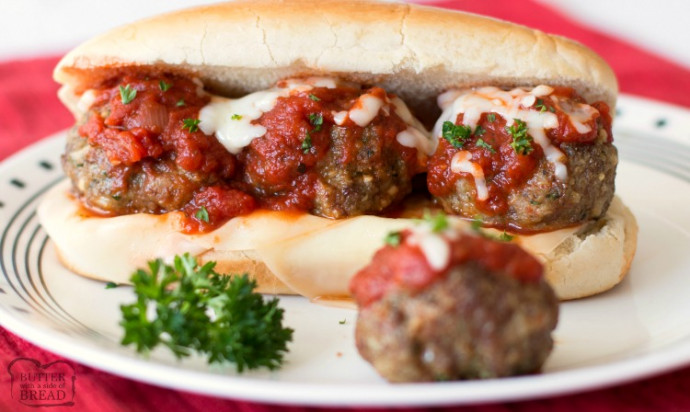 Meatball Sub recipe with flavorful, baked homemade meatballs, then assembled with 2 types of cheese, marinara sauce all on a crusty French roll. Perfect meatball sub recipe for dinner or lunch!
Homemade Meatball Subs are one of our favorite dinners! You can make the meatballs ahead of time and warm them up in the sauce, then assemble the sandwiches for a quick & easy weeknight dinner. Serve our meatball sub recipe with a side of any salad you like! To make homemade meatballs, first you need to preheat the oven to 350 degrees F. You can cook meatballs in a skillet on the stove, but baking them is easier and less messy! Next you'll mix all the meatball ingredients together, by hand. You can use a rubber scraper if you'd like, but just make sure you thoroughly mix the ingredients. Scoop golf ball sized meatballs out using a small cookie scoop. and place on a foil lined baking pan, approximately one inch apart. You'll be able to make 15 meatballs with this recipe. Bake for 30 minutes.
I use 3 type of cheese in this recipe. You'll place 2 sliced of provolone cheese on the bottom of each meatball sub, then you'll sprinkle the top of the sub with grated mozzarella cheese. I also use Parmesan cheese in my recipe for the baked meatballs. I was able to make 15 golf ball sized meatballs. At three meatballs per sub, I was able to make 5 subs.
Ingredients:
1 lb ground beef
2 eggs beaten
1/2 cup milk
1/2 cup grated or shredded Parmesan cheese
1 cup Italian bread crumbs
2 cloves garlic minced
1/2 tsp oregano dried
1 tsp salt
1/4 cup chopped fresh basil can substitute 1 TBSP dried basil, if you'd like)
5 rolls I like to use French Rolls
2 cups Marinara sauce
10 slices provolone cheese
1 cup Mozzarella cheese shredded