Better-Than-Takeout Sticky Chicken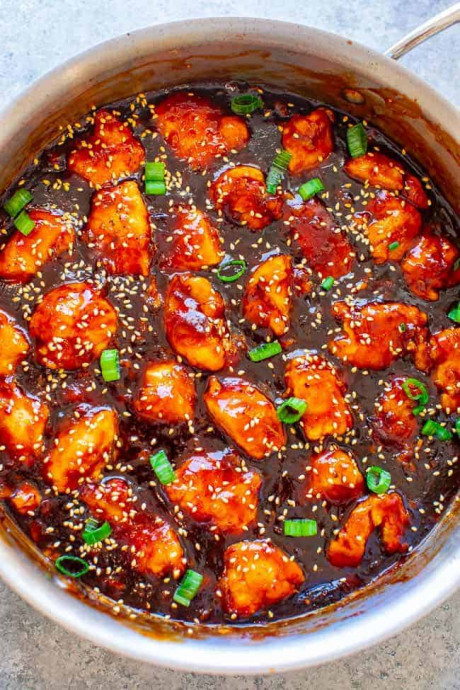 Better-Than-Takeout Sticky Chicken — Stop calling for takeout or going to the mall food court and make this amazing sticky chicken at home in 15 minutes!! So easy with the perfect balance of sweet and spicy with plenty of sticky sauce!! If I'm walking by the food court in the mall and I can snag a free sample of sticky chicken, I do a little happy dance inside. But I don't order it because I know it's greasy and loaded with calories and fat that I don't need.
Enter this homemade non-fried version of Asian sticky chicken that's made in one skillet and ready in 15 minutes. No fuss, hassle-free, and perfect for busy weeknights. The chicken is ridiculously tender, juicy, and loaded with authentic Asian flavors.
The recipe makes a lot of sauce and I like to drench my rice in it, but if you're not as much of a sauce person you can cut the sauce recipe in half. The honey, ketchup, and sugars create the sweetness. The chili garlic sauce adds spiciness, and when you boil and reduce the sauce down in the presence of cornstarch, it because thicker and stickier. It's finger licking good. The sauce is just sweet enough but is balanced with the tang of the vinegar.
Ingredients:
1/2 to 2/3 cup honey
1/2 cup ketchup
1/4 cup apple cider vinegar (or regular or rice vinegar)
1/4 cup soy sauce
1/4 cup brown sugar, packed (light or dark)
2 tablespoons granulated sugar
1 to 4 tablespoons chili garlic sauce, to taste (I used 3 heaping tablespoons and there was a nice kick; reduce to 1 tablespoon or less if you're very sensitive to spicy foods)
Chicken
1 large egg, lightly beaten
1/2 cup all-purpose flour
1/3 cup corn starch, for dredging
1.25 to 1.50 pound boneless skinless chicken breast, cut into bite-sized pieces
3 to 4 tablespoons olive oil
1 1/2 tablespoons cornstarch + 2 tablespoons cold water
green onions, sliced thin; optional for garnishing
sesame seeds, optional for garnishing