Chocolate Chip Pancakes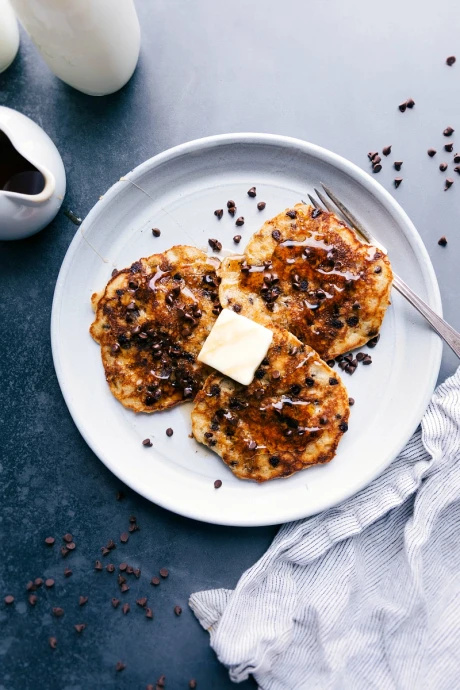 Delicious Chocolate Chip Pancakes are made with miniature chocolate chips and buttermilk. These pancakes have a crisp exterior with a soft, interior.Pancakes, Waffles, and French Toast are all favorites at my home — we make at least one of them every Saturday for breakfast. My kiddos go crazy for Saturday morning breakfast!
While we typically stick these plain Homemade Pancakes, it's fun to change up the flavors — sometimes adding overripe bananas (like in these Banana Pancakes) or fresh, juicy blueberries (like in these Blueberry Pancakes).
Today though, we're going for a total breakfast treat — Chocolate Chip Pancakes! These pancakes are sweet, light, fluffy, and completely crave-worthy. Add a splash of good maple syrup for the perfect finishing touch!
Ingredients:
8 tablespoons (113g) unsalted butter, divided
1-1/4 cup (300g) buttermilk
1 large egg
1 teaspoon pure vanilla extract
1-1/4 cups (150g) white, all-purpose flour
2 tablespoons light brown sugar, lightly packed
1/4 teaspoon ground cinnamon, optional
3/4 teaspoon fine sea salt
1 teaspoon cornstarch
1/2 teaspoon baking powder
1/2 teaspoon baking soda
1/2 cup (86g) miniature chocolate chips, plus more for topping if desired