Orange Breakfast Crescents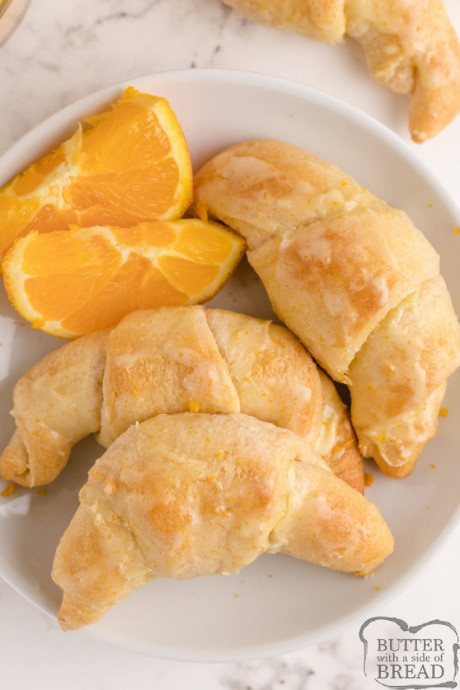 Orange Breakfast Crescents made with refrigerated crescent rolls stuffed with a cream cheese filling and topped with a sweet orange frosting! Taste just like orange rolls, but are ready in less than 20 minutes! Orange Breakfast Crescents are made by making a simple, 4 ingredient cream cheese filling and wrapping it into refrigerated crescent rolls. Once the rolls are baked, top them with a simple orange frosting and enjoy them warm!
We really love Orange Rolls, but they require a little more time. Even the fast version takes about an hour from start to finish. These Orange Breakfast Crescents taste very similar, but because they start with pre-made crescent rolls, they can be ready in about 20 minutes! You need just blend all the ingredients, separate dough into triangles. Divide cheese mixture among the triangles, spread in the middle of each triangle leaving a 1/4" border on the edges. Roll up each triangle, starting at the long edge. Bake for 15 minutes or until very lightly browned. Combine all topping ingredients while rolls are baking. Spread over hot crescent rolls as soon as they come out of the oven and serve immediately. Perfect for a quick, easy and delicious breakfast. Or a yummy snack anytime!
Ingredients:
3 oz cream cheese softened
3 Tbsp sugar
1/4 tsp almond extract
1 tsp orange zest
1 pkg 8-count refrigerated crescent rolls
Topping
1/2 cup powdered sugar
1 Tbsp orange juice
1 tsp orange zest grated
1 Tbsp butter melted
1/8 tsp almond extract