Pepperoni Bread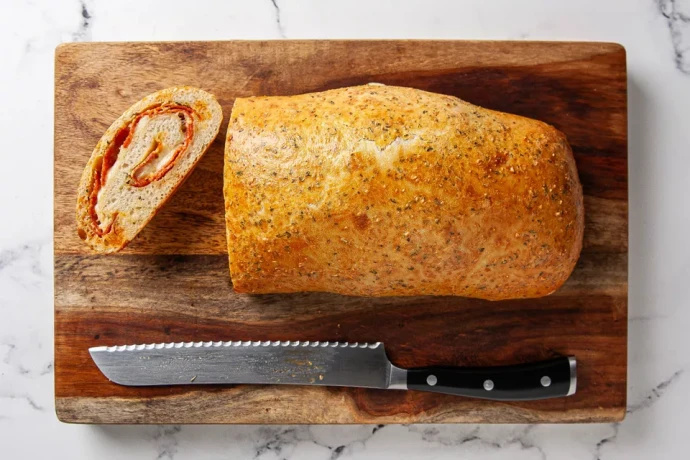 Take a moment and picture this: everything you love about pepperoni pizza combined with the delicious ease of a dippable appetizer bread. Then imagine it all comes together in a gorgeous presentation reminiscent of a dessert cake roll. What do you have? This tempting pepperoni bread.
This may look fancy and complicated, but convenient ingredients make the appetizer a snap to prepare. Start with a loaf of thawed store-bought bread dough. Flatten it out into a large rectangle, top with classic pizza fixings, roll it tightly, and bake to golden perfection.
Once this pepperoni bread comes out of the oven, just wait until you cut into the loaf. Each slice reveals a swirl of pepperoni and cheese that can then be dipped into your favorite marinara sauce to complete the experience. The result is a unique appetizer bread that friends and family alike will enjoy. In fact, they might be fighting over who gets the last slice!
Ingredients:
2 eggs
2 tablespoons Parmesan cheese (grated)
1 teaspoon Italian seasoning
1 (16-ounce) loaf frozen bread dough (thawed)
4 ounces pepperoni (sliced)
8 ounces provolone cheese (shredded)
1 cup marinara sauce