Homemade California Pizza Kitchen Club Pizza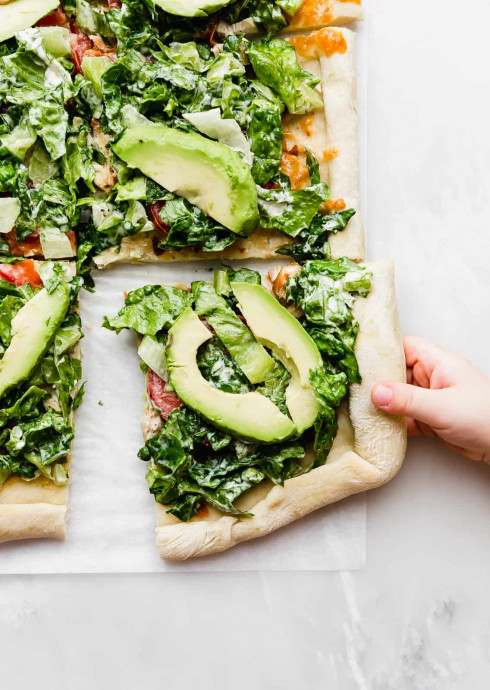 This CPK Club Pizza is made with my homemade pizza dough crust, topped with bacon, cooked chopped chicken and cheese and served with sliced tomatoes, lettuce tossed in mayo and sliced avocados.
I love this homemade California Pizza Kitchen club pizza recipe because it isn't only topped with the protein elements (the cooked chicken and bacon), but the fresh ingredients on the top make it so light and delicious! It's like pizza and a salad all in one!
This California club pizza is a simple pizza recipe that is perfect for those busy weeknights. You can even make the pizza dough ahead of time and store it in the fridge or freezer. See my pizza dough recipe for more details on that.
Kids love pizza, and I'm always eager to make sure there are some fresh vegetables on there for them. It's not always easy getting your kids to eat vegetables, but I've found that making food I know they like, such as pizza and pasta (don't all kids love those? ha), and adding in extra vegetables, helps them see the importance of healthy ingredients.
Ingredients:
1/2 batch of my pizza dough recipe
2 tablespoons olive oil - divided
1 boneless skinless chicken breast - cooked and cubed, or can also use rotisserie chicken (about 1 1/2 cups)
3 cups mozzarella cheese - shredded
5 slices bacon - cooked and crumbled
2 tomatoes - sliced
4 cups romaine lettuce - shredded
4 tablespoons mayo
1 large avocado - sliced
salt and pepper - to taste