Asparagus, Peas, and Smoked Gouda Frittata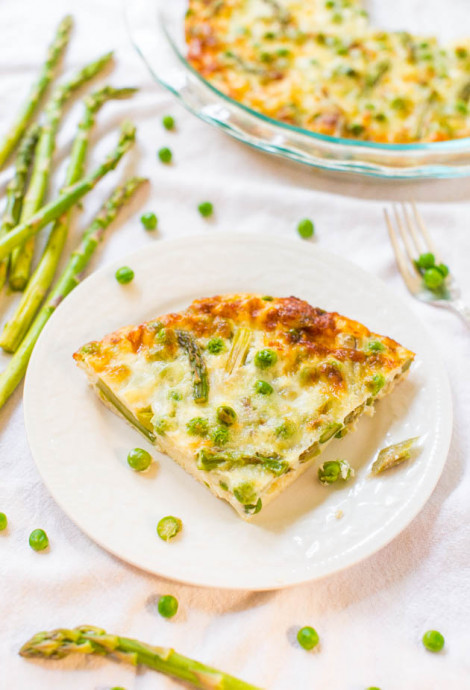 I love asparagus. Seeing it come into season every spring is such a treat. Even better is seeing it in an easy meal that goes from fridge to table in 25 minutes. The frittata is packed with healthy green vegetables, which is just the way I want a frittata. Lots of color, texture, and the veggies help keep you full longer.
As the frittata bakes, the asparagus softens but retains enough snappy crunch to be so satisfying. The peas stay juicy and have a pleasant popping sensation when you bite into them. There is nothing worse than mushy or overcooked vegetables, especially asparagus and peas, and they stay perfectly al dente. Assembling the frittata takes less than five minutes. Slice the asparagus and put it in the pie dish, sprinkle with frozen peas, whisk together the eggs and pour over the top. Sprinkle with cheese and bake. Even though it's such a super simple recipe, it doesn't taste simple and I think it's pretty enough to serve at a holiday or special meal.
Ingredients:
1 cup diced asparagus, about 1-inch long segments (I used fresh; frozen may be substituted)
1 cup peas (I used frozen and did not thaw before baking)
6 large eggs, lightly whisked
salt and pepper, to taste
about 1 cup shredded smoked gouda, loosely packed (substitute with mozzarella, fontina, brie, Havarti, or an easy-melting cheese)