Roasted Cauliflower Tacos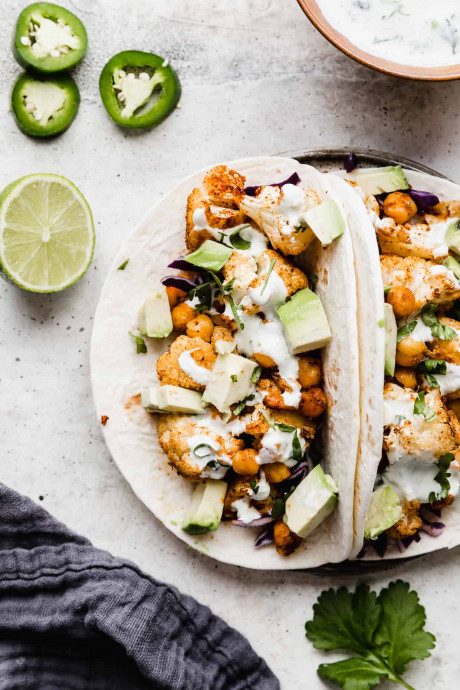 If you're looking for a lighter meal or lower carb option for dinner, then you've come to the right place. These roasted cauliflower tacos are a perfect addition to the table and can be prepped in minutes flat. This delicious meal is easy to make, healthy, and delicious. Top it with fresh avocado, a squeeze of lime, cilantro, and a spicy lime crema. It stores really well and makes for a great meal prep option.
I am a huge fan of delicious meals with minimal work. These vegetarian sheet pan tacos are exactly that! Our cauliflower tacos filling is made on a sheet pan in the oven, saving you time and effort while the homemade spicy lime crema is whisked to perfection.
It doesn't take long to prep this meal and the best part is that it could be prepped in advance! Save yourself time and effort later by meal prepping it for meals throughout the week.
These tacos store very well. Making them in advance and storing them in the fridge for later consumption will not hinder or alter the flavors at all. If you work and need a healthy lunch option, this is the perfect recipe for you.
This recipe is easily customizable and can no doubt become the next big hit in your house on taco Tuesday!
Ingredients:
1 1/2 teaspoons chili powder
1 teaspoon ground cumin
1/2 teaspoon smoked paprika
1/4 teaspoon garlic powder
1/4 teaspoon onion powder
1 teaspoon salt
2 tablespoons olive oil
1 large cauliflower - cut into bite-size florets
1 15 oz can of chickpeas - or garbanzo beans; rinsed, drained and patted dry
small flour or corn tortillas - for serving
1 cup red cabbage - finely chopped
2 avocados - sliced
cilantro - chopped, for serving
lime wedges - for serving
Spicy Lime Crema
1 cup plain Greek yogurt
3 tablespoons lime juice
1/2 teaspoon salt
1/2 jalapeno
3 tablespoons cilantro - finely chopped