Donut Apples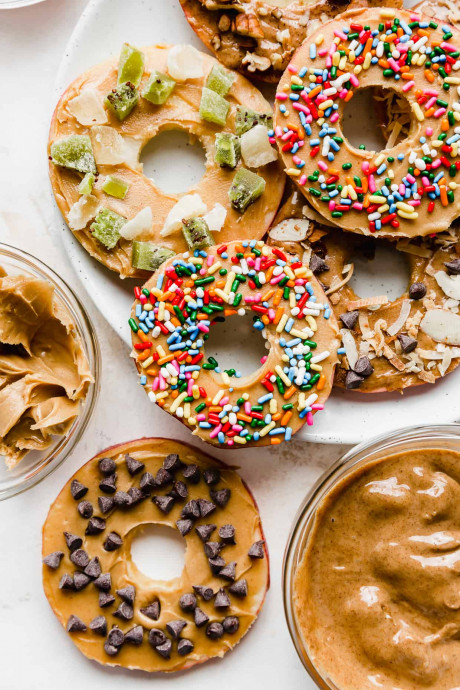 Donut apples are a cored and sliced apple snack with a variety of nut spreads and toppings for a healthy snack option fit for kids and adults. If you're like me, you're always looking for healthy snack options for kids. I confess "Halloween candy" has become quite the first phrase from my youngest boy. So, it's been a huge hit with my kids to have this apple slice donut snack they can make on their own and is healthy!
Grab your favorite nut butters (peanut, almond, cashew, you name it!) and some of your favorite toppings (honey, toasted coconut, mini chocolate chips, sprinkles, dried fruit, and more!) and call the kids into the kitchen. You'll be surprised some of the delicious combinations your kids can come up with.
A few combination ideas: Almond joy apple donuts = almond butter, toasted coconut, mini chocolate chips. Peanut butter/almond butter/cashew butter + honey, sprinkles, mini chocolate chips, toasted coconut.
Ingredients:
2 apples - choose your favorite variety
Spread Ideas
peanut butter
almond butter
cashew butter
apple butter
pumpkin butter
Topping Ideas
sliced almonds - or any nut variety
chopped pecans
sprinkles
mini chocolate chips
toasted coconut
dried fruit - chopped
ground cinnamon
honey