Cream Cheese Pineapple Pie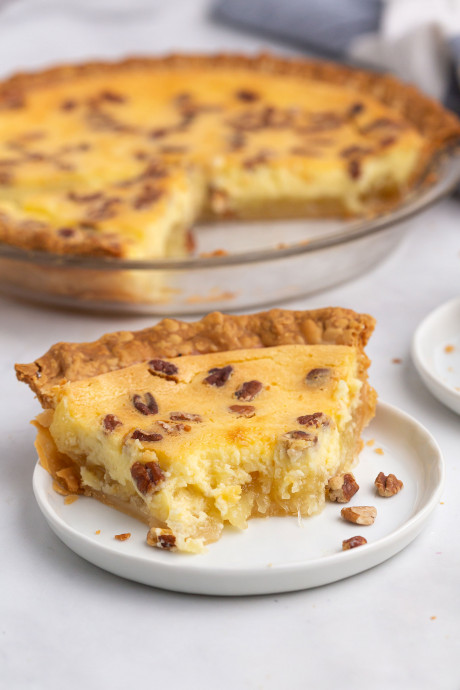 Pineapple pie isn't something that you might see every day, but that doesn't mean it isn't super delicious. This recipe uses a great cream cheese mixture to help amplify the flavor and texture of crushed pineapple, leaving you with a tangy, sweet pie with a really satisfying mouthfeel. The key with this pineapple cream cheese pie is texture, and it requires a careful blending of all the ingredients together to create just the right combination. This is similar to my pumpkin cheesecake pie, where you create two layers in one pie.
Most people probably can't imagine pineapple and cream cheese going together very well, but in this recipe, they somehow just… work. As long as you make sure to blend everything together properly, this pie practically melts in your mouth if done right. This recipe has two really important mixing steps; blending together the pineapple and then blending the cream cheese.
The best thing to do to make a simple and delicious addition is to top it with the chopped pecans in this recipe. They will bake into the mixture and toast up beautifully, giving everything a nutty brown, tasty flavor and aroma.
For something a bit more intricate, you could always pipe on some whipped cream into elaborate shapes once the pie has completely cooled. Keep in mind, though, that unless you stabilize your whipped cream with some gelatin and keep it in the fridge, the cream will probably completely deflate after only a few hours.
Ingredients:
For pineapple mixture:
1/3 cup white sugar
1 tablespoon of cornstarch
8 ounces crushed pineapple not drained!
For cream cheese mixture:
one 8 ounce package cream cheese softened
1/2 cup white sugar
1/4 teaspoon salt
2 large eggs
1/2 cup whole milk
1/2 teaspoon vanilla
1 unbaked pie crust – 9 inch pie plate
1/4 to 1/2 cup chopped pecans depends on how much you like nuts!