Moroccan Couscous with Roasted Vegetables Chick Peas and Almonds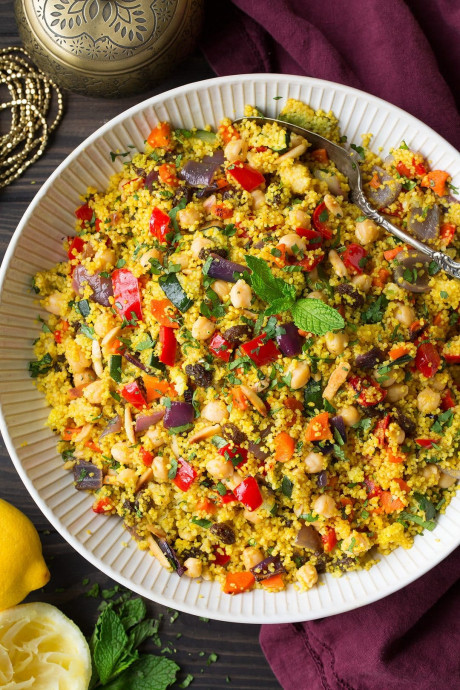 A flavorful, hearty Moroccan Couscous dish that's packed with roasted vegetables, chickpeas and almonds. It's perfect for summer and sure to be a hit! Enjoy for a healthy lunch or as a side with fish or chicken for a filling, exciting dinner.
There aren't many recipes I post I tell you that you have to try but please let this be one of them! I'm head over heels in love with this delicious Moroccan Couscous with Roasted Vegetables, Chick Peas, and Almonds!
I love the blend of moroccan flavors here and I also really love all the texture going on (think itty bitty couscous, soft roasted veggies, crunchy almonds, chewy raisins and tender chick peas).
And in case you missed it I recently shared a Moroccan Grilled Chicken recipe that pairs perfectly with this couscous and completes the meal. It's a meal I'm excited to make again and again and again!!
Ingredients:
1 large red bell pepper, cored and diced
2 medium carrots, halved through length and sliced fairly thin
1 small red onion, diced into 1-inch chunks
1 medium zucchini, halved through the length and sliced
4 Tbsp olive oil, divided
2 Tbsp fresh lemon juice
2 tsp minced garlic (2 cloves)
1 tsp ground cumin
1 tsp ground coriander
1/2 tsp ground cinnamon
Salt
1 1/3 cups dry couscous
1 (14.5 oz) can low-sodium chicken broth
1/2 tsp turmeric
1/2 cup raisins
1 (14 oz) can chick peas, drained and rinsed
1/2 cup slivered almonds, toasted
3 Tbsp minced fresh cilantro
2 Tbsp minced fresh mint