Cabbage Salad With Honey Lime Dressing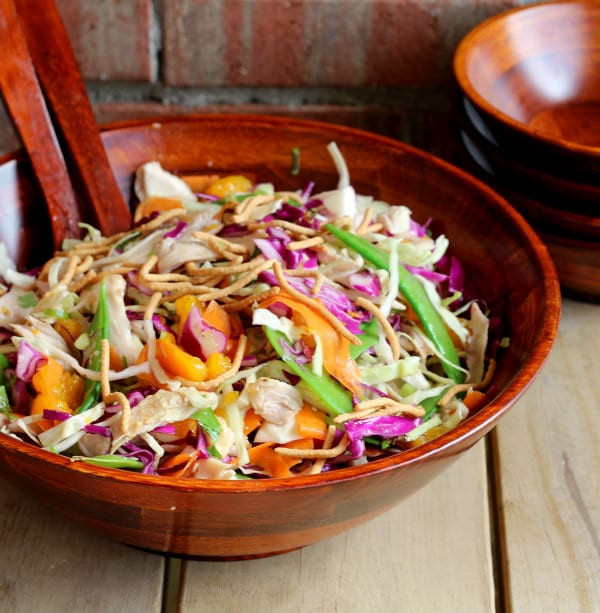 This cabbage salad uses a store-bought rotisserie chicken to create a quick, easy, and healthy meal. Your whole family will love it.
Long story short, I love rotisserie chickens but we rarely ever eat them as is. The rotisserie chicken typically ends up in a salad or pasta of some sort, or a sandwich or soup. The possibilities are so fun!
We love this salad made of crunchy cabbage, sugar snap peas, carrots, mandarin oranges and a great honey-lime dressing. Lots of great veggies and fresh flavors. And yes, meat from the rotisserie chicken. I think your whole family will love it! Rather have vegetarian? Substitute black beans or tofu for the chicken. Healthy and simple delicious dinner!
Ingredients:
1 cup fresh snap peas
2 cups shredded green cabbage
2 cups shredded red cabbage
1-2 green onions, thinly sliced
1 15-ounce can mandarin oranges, (reserve 2 tablespoons juice for dressing, then drain)
1 carrot, shredded
4 cups shredded or diced cooked chicken (rotisserie chicken is perfect)
1/4 cup loosely packed fresh cilantro, roughly chopped
FOR THE DRESSING
3 tablespoons light olive oil
2 tablespoons fresh lime juice
2 tablespoons juice mandarin oranges
1 teaspoon honey
Sriracha to taste, optional
salt to taste
1/2 cup chow mein noodles for topping, optional