Asparagus Gruyère Tart With Balsamic Glaze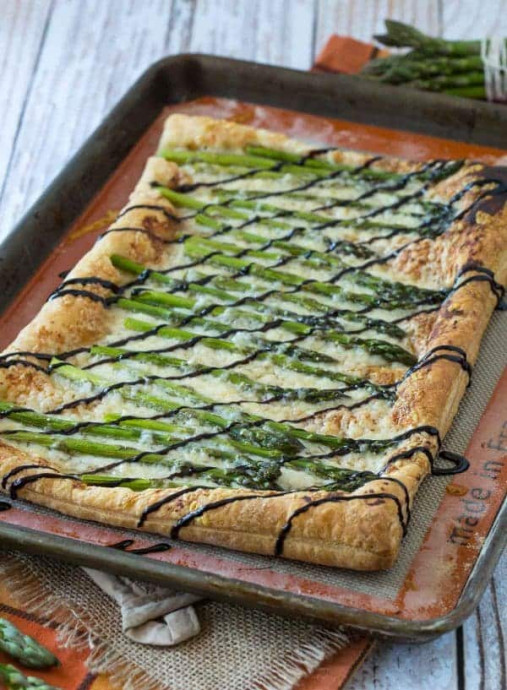 Perfect for summer, this Asparagus Gruyère Tart is a show-stopping addition to any brunch or appetizer table. You won't believe how easy it is to make! Anyone else obsessing over asparagus right now? I've been picking up a bunch nearly every time I hit the grocery store and I'm so thankful that it is vibrant green, crisp, and fresh. Honestly, this sucker is easy to make. The hardest part is rolling out the puff pastry dough, but that's really simple too. Just make sure you're rolling it out on a floured surface and using a floured rolling pin. It doesn't have to be perfectly sized or perfectly square. Just make it as big as you're comfortable making it, so that it takes up almost your entire sheet pan.
Once you've finished that step, you get to prick it with a fork which is oddly fun. Then, smear it with Dijon. I started with a brush but actually ended up using my hands to get it evenly spread over the dough. Cheese, asparagus, cheese…and bake! Once the asparagus Gruyère tart is baked, I top it with my favorite balsamic glaze and serve immediately. You could also try it with homemade balsamic reduction which is so easy to make! It would be a great addition to a brunch or as part of an appetizer spread.
Ingredients:
1 sheet frozen puff pastry, thawed according to package directions
2 tablespoons Dijon mustard
1/2 bunch asparagus, washed and tough ends trimmed (I used about 20 stalks)
1 1/2 cup shredded Gruyère cheese
2 tablespoons balsamic drizzle