Hawaiian BBQ Pulled Chicken Sandwiches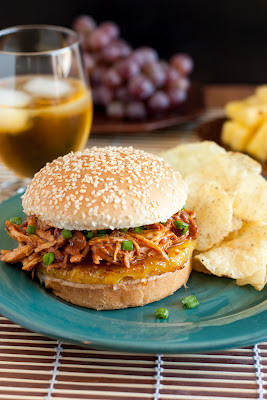 The perfect summer sandwich, sweet and saucy hawaiin chicken served in a bun with pineapple. Hawaiian BBQ Pulled Chicken Sandwiches – This should be called "The Sandwich of Summer." I made this recipe because I love pulled pork so much so I wanted something similar but entirely its own. Basically I wanted something delicious, out of the ordinary that will make people say "wow." Of course I made it a slow cooker recipe because that's what I love and that's what everyone else seems to love. This sandwich is bursting with the flavors of the islands (especially when served along with fresh, glazed/grilled pineapple). It inspires me to want to host a luau party in my backyard.
Don't be scared by the long list of ingredients, most of them, if not all of them, you probably already have in your fridge and cupboard. If you are looking to try a new dish that is enticingly delicious and fully amazing your going to want to try this sandwich! Share and enjoy! Serve it right away with or without green onions!
Ingredients:
2 lbs boneless skinless chicken breast halves
1/2 cup ketchup
1/3 cup pineapple juice (apple juice could be substituted)
1/4 cup low sodium soy sauce
1/4 cup honey
2 1/2 tsp molasses
1/4 tsp liquid smoke
1/4 tsp coconut extract
1/2 tsp ground ginger
1/2 tsp onion powder
1/2 tsp garlic powder
freshly ground black pepper , to taste
1 Tbsp cold water
1 Tbsp cornstarch
2 Tbsp tomato paste
Glazed Pineapple
6 fresh pineapple rings (cut about 1/2" thick)
4 Tbsp brown sugar , divided
1 Tbsp butter , divided