Almond Cherry Crumble Tart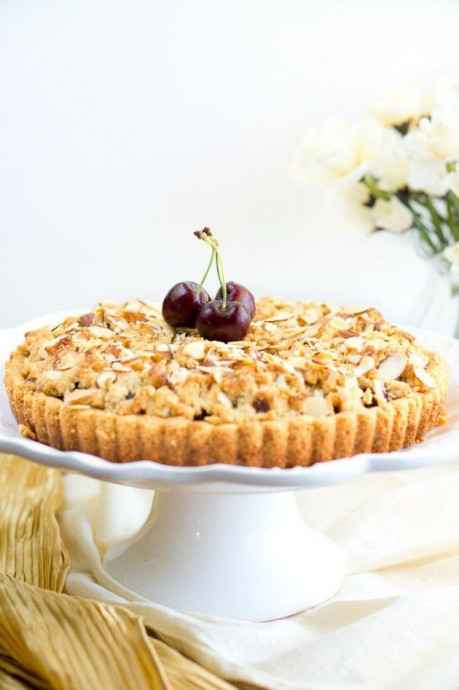 Almond Cherry Crumble Tart made with almond flour, cherries, sliced almonds and gluten free oats, this gluten free tart is an easy and impressive dessert for your weekend or your next cookout with friends.
The gluten-free crust is made with almond flour, butter and a touch of almond extract, and it's absolutely delicious. This gluten-free tart crust recipe comes together in mere minutes. Best of all, it can be pre-baked so that you can fill it for a quick and easy dessert. Simple, but elegant, this nutty and fruity almond cherry crumble tart made with a tender, flaky almond crust, will be the center of attention to any special occasion.
This almond cherry crumble tart is fruity, sweet and utterly simple and guaranteed to fulfill your dessert cravings. The cherries are the star of this dessert but almond flour plays a significant supporting role in all three steps: the crust, the filling, and the topping. Gluten-free people will rejoice as well.
Ingredients:
1 1/2 cups almond flour
2 Tbsp coconut sugar
1 pinch of salt
8 Tbsp 1 stick unsalted butter, softened (grass-fed/organic)
1/2 tsp almond extract
CHERRY FILLING
¼ cup almond meal
¼ cup coconut sugar
2 lbs fresh cherries
Juice from 1 lemon
½ tsp pure vanilla extract
TOPPING
1 cup almond meal
1/2 cup coconut sugar
⅛ tsp salt
8 Tbsp 1 stick cold, unsalted butter
½ cup gluten free quick oats
1 cup sliced almonds, divided
1/2 tsp almond extract
Vanilla ice cream, to serve (optional)