Healthy Homemade Filet-O-Fish Burger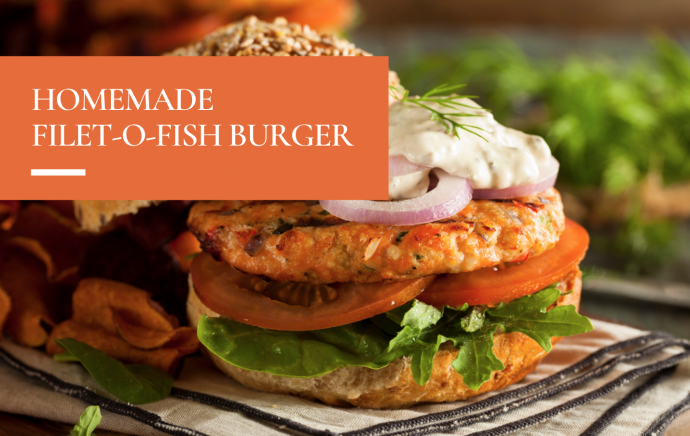 If you think that making a healthier fish fillet burger (or sandwich) at home is an impossible task, I have something to surprise you today. This fried fish sandwich with homemade tartar sauce is golden brown and ready to serve in under 30 minutes, and it's so good that it puts McDonald's filet-o-fish to shame. It's made of real fresh ingredients with no fillers or artificial flavors. Enjoy!
Ingredients
For the Tartar Sauce
1 cup mayonnaise
1 tablespoon sweet pickle relish or sweet onion relish
1 tablespoon minced onion (yellow or green)
1 tablespoon lemon juice
1/4 teaspoon salt
1/4 teaspoon freshly ground black pepper
For the Fish Burgers (Sandwiches)
2 6-8- ounce skinless boneless halibut filets
1 tablespoons lemon juice
1/2 cup buttermilk
1 teaspoon salt
1 teaspoon freshly ground black pepper
1 cup finely-crushed unsalted, saltine crackers
1/4 cup panko bread crumbs
1/2 tablespoon Old Bay seasoning
Grapeseed or canola oil for frying
3 brioche buns or 4 slider buns
Cheddar cheese slices
Fresh tomato slices
Dill pickle slices
Directions
Step 1
Let's cook the Tartar Sauce first. In a medium bowl, combine the mayonnaise, sweet relish, onion, lemon juice, kosher salt and pepper. Refrigerate for at least 30 minutes for flavors to combine.
Step 2
For the Fish burgers. Cut the fish fillets into 3-4 ounce pieces. Squeeze the lemon juice over the fish fillets. Combine the buttermilk, salt and pepper in a shallow bowl. On a large plate, toss together the crushed saltine crackers, panko bread crumbs and Old Bay seasoning.
Step 3
In a large Dutch oven, heat 2 inches of oil until a deep-fry or candy thermometer reads 350°F. One at a time, dip a piece of fish in the buttermilk, shake off any excess and dip into the saltine mixture and set on another plate or small baking sheet. Repeat with the rest of the fish pieces.
Step 4
Place a few of the fish pieces in the oil being careful not to overcrowd the pot. Fry for 2 minutes, or if the fillets are taller than the oil, fry for 2 minutes on each side or until golden brown. Use tongs to transfer the fish to a wire rack placed over a baking sheet or something similar to catch any dripping oil and quickly season with a sprinkling of kosher salt while the fish is still hot.
Step 5
While the fish is cooking, preheat the broiler or a toaster oven. Place the tops and bottoms of the brioche buns on a baking sheet and place a slice of cheese and tomato on each of the bottom buns. Broil for 2-3 minutes or until the cheese has slightly melted and the buns are warm and toasty.
Step 6
To assemble the sandwiches, top the bottom bun with the melted cheese with pickle slices, the halibut, and spread the top bun with tartar sauce and top your burger.
Bon appetit!