Strawberry Shortcake Trifles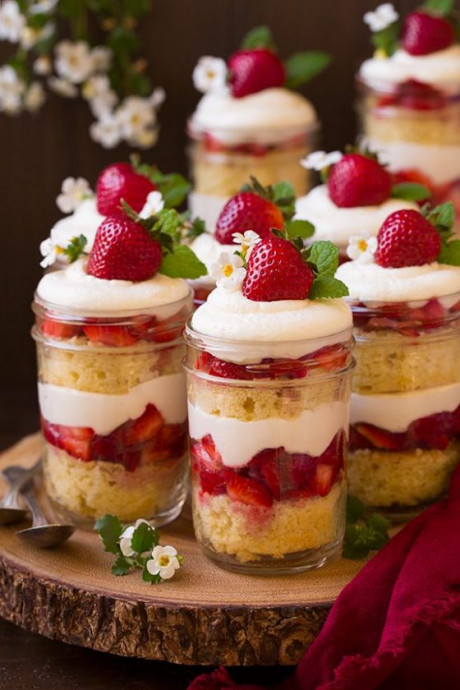 Strawberry Shortcake Trifles — All the flavors of the classic strawberry shortcake but with a soft cake layer instead of biscuit, and served in individual cups for a fun party or after dinner treat! Strawberry Shortcake Trifles made with six layers of utter bliss! In these mini dessert cups, you get a sweet vanilla cake alternating with layers of fresh, juicy strawberries and rich, fluffy whipped cream.
Let me tell you though, these mini strawberry trifle cups are dangerous! I'm generally pretty good and putting limits on myself since I have so many desserts around here all the time — but not with these.
Goodbye self-restraint, hellooo strawberry shortcake trifles! These would be perfect for a shower or for Mother's Day, or of course they are perfect just to treat yourself because it's the weekend! Dessert on the weekend is a must, right? You can make the cake one to two days ahead of time (if it gets a little dry, don't worry! The whipped cream and fresh strawberries will moisten the cake again).
Ingredients:
2 cups (284g) all-purpose flour, plus more for dusting pan
3 Tbsp (26g) cornstarch
1/2 tsp salt
1/2 tsp baking soda
1/2 tsp baking powder
12 Tbsp (170g) unsalted butter, softened
1 1/2 cups (315g) granulated sugar
1 tsp lemon zest
4 large eggs
1 1/2 tsp vanilla extract
1 cup (283g) sour cream (I used light because it's what I had on hand)
Strawberry layer
2 lbs fresh strawberries, diced, plus 12 more small whole for garnish
3 1/2 Tbsp (45g) granulated sugar
Cream layer
2 cups (475ml) heavy cream
6 oz (170g) cream cheese, softened
1/2 tsp vanilla extract
3/4 cup (90g) powdered sugar