Vanilla Ice Cream Recipe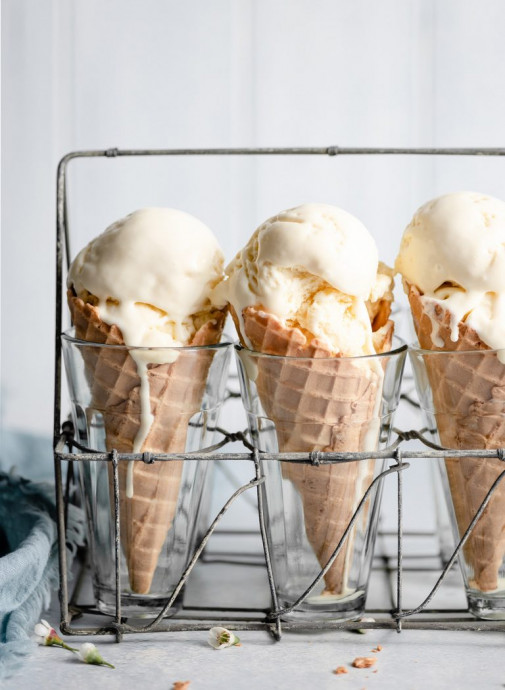 A homemade Vanilla Ice Cream Recipe that everyone will love! It's amazingly rich and creamy, perfectly refreshing and so much better than store-bought! This classic ice cream takes just a few ingredients and makes enough to serve a crowd.Let's just start by saying there's nothing "vanilla" about this recipe. If you're one of those that think vanilla ice cream is too boring of a flavor, I'm about to change your mind with the best vanilla ice cream recipe.
This easy homemade ice cream recipe is a sweet and creamy delight that tastes as it came right out of an old school ice cream parlor. It's perfect to eat as is, or you can use it as a base to dress up with all of your favorite toppings and sauces.
Take it over the top and make an ice cream sundae with sweet sliced bananas, crunchy nuts and the best hot fudge sauce and salted caramel sauce. Then crown it with whipped cream and a colorful maraschino cherry if you can't resist! Some of my favorite toppings include: Cookies and cream with caramel sauce. Chopped chocolate bits and raspberries. Fruit sauce, blueberry syrup, or strawberry syrup. Graham crackers, marshmallows and chocolate sauce. Brownie bites and edible cookie dough. Chopped candy bars. If you have a crazy and fun topping combos you love, let me know if the comments below! I love trying new options and I'm always looking for suggestions.
Ingredients:
2 1/2 cups (590ml) heavy cream
1 cup (235ml) whole or 2% milk
3/4 cup (150g) granulated sugar
1/8 tsp salt
6 large egg yolks
1 Tbsp vanilla extract