Grilled Chicken With Watermelon Mango Mint Salsa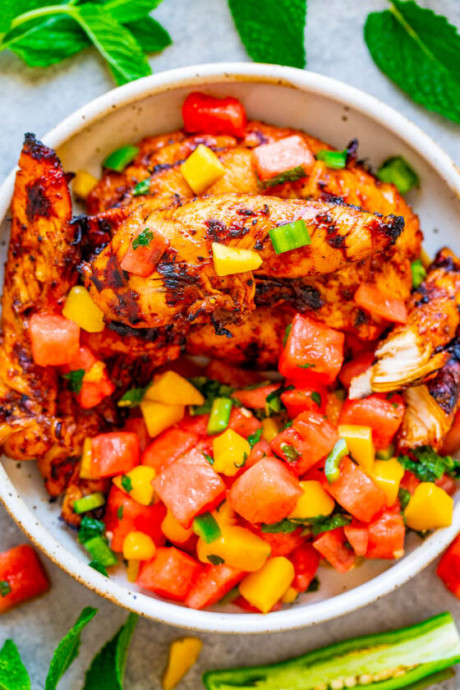 Grilled Chicken and Watermelon Mango Mint Salsa — The chicken is tender, juicy, and the EASY salsa made with watermelon, mango, and mint adds so much fresh FLAVOR!! Healthy, FAST, EASY, zero cleanup, perfect for backyard barbecues or easy weeknight dinners!! Chicken on the grill is a favorite of ours because it's tender, so juicy, and full of flavor from the grill. Topped with this fresh mango watermelon salsa, it's easy to get excited about this chicken dinner. Plus it's so pretty. It's not often I get to eat something so, well, pretty.
It's easy, healthy, there's zero cleanup, it's ready in 15 minutes, and you don't have to heat your house up. I'm sure you have everything on hand in your pantry to get started on the chicken marinade.
The watermelon salsa that tops the chicken is music to my watermelon and mango-loving self's ears. I have a Strawberry Mint and a Peach Mango Salsa recipe that are other favorites. Seasonal juicy watermelon, mango, mint, lime juice, honey, and optional jalapeño peppers are the key ingredients.
It's such a perfect flavor enhancer to chicken on the grill. It's like it was made to be eaten with grilled chicken. It's summer in your mouth.
But it's also excellent on tortilla chips and I suggest going to town with a bag of chips and any extra salsa you have.
Ingredients:
Chicken
1/2 cup your favorite barbecue sauce
1/2 cup honey
2 to 3 tablespoons olive oil
2 to 3 tablespoons lemon juice or apple cider vinegar
1 to 3 tablespoons sriracha, optional and to taste for a spicier result
2 to 4 cloves garlic, finely minced or pressed
1 teaspoon freshly ground black pepper, or to taste
about 1.25 pounds boneless skinless chicken breasts tenders
Salsa
2 cups watermelon, diced small
1 cup mango, diced small (fresh is best but frozen can be substituted)
2 to 4 tablespoons fresh mint, finely minced or to taste
2 to 3 tablespoons fresh lime juice
1 or 2 jalapeno peppers finely minced with seeds removed, optional and to taste
1 to 2 teaspoons honey, or to taste
1/2 teaspoon kosher salt, plus more to taste if desired