Strawberry Rhubarb Crumb Bars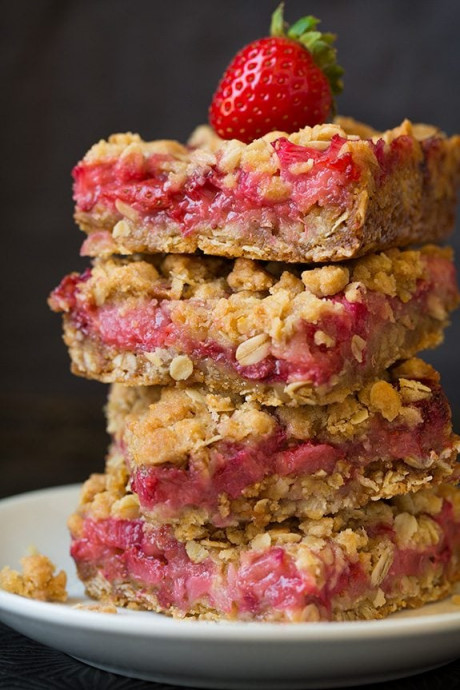 These Strawberry Rhubarb Bars have an irresistible crumb topping and a gooey fruit filling. It's the perfect dessert to make when rhubarb is in season. This is one of those desserts everyone will love! It's one of those sweets that you'll keep finding yourself heading back to the kitchen and cutting off little square after little square until half the pan is gone, because there's just no resisting them! They are one of my all-time favorite fruit bars, and that is saying something! It's not too often throughout the year that my local grocery store has fresh rhubarb, but when it does I always have to grab some. I absolutely love the strawberry rhubarb combination and how the sweetness of the strawberries and the tartness of the rhubarb balances each other out so perfectly.
And when you pair that combination with a buttery, sweet, vanilla, oat crumble topping, you know it's going to be good — and let me tell you, these strawberry rhubarb bars are unbelievably delectable!
They have the most amazing texture with a crisp topping and very bottom layer, then that middle layer next to the fruity filling is kind of chewy and soft like a cookie. I will never stop dreaming about these strawberry rhubarb, and I love that they are easy to make (and no mixer is required)!
Ingredients:
Crumb layers
1 1/3 cups (188g) all-purpose flour
1/2 tsp baking soda
1/4 tsp salt
1 1/3 cups (120g) rolled old fashioned oats
1/2 cup (110g) packed light brown sugar
1/2 cup (110g) granulated sugar
3/4 cup (170g) unsalted butter, melted
2 tsp vanilla extract
Filling
1 3/4 cups (273g) hulled and diced strawberries (from 12 oz whole)
1 1/2 cups (190g) diced rhubarb, sliced 1/4-inch thick
1 Tbsp fresh lemon juice
1/3 cup (71g) granulated sugar
1 Tbsp (9g) cornstarch