Citrus And Avocado Salad With Lemon Poppy Seed Dressing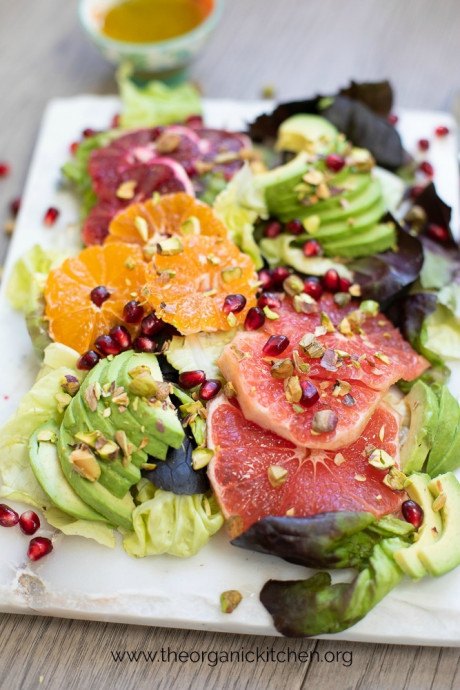 Any time of the year a fragrant, fresh, light, and of course that beautiful burst of color is always welcome! This is Citrus and Avocado Salad with Lemon Poppy Seed Dressing, and it is lovely. Tender greens, vibrant citrus, creamy avocado, pistachios and pomegranate seeds, are all drizzled with a simple to 'whisk together' lemon poppy seed dressing. Nature is amazing. It gives us what we need when we need it. This salad is loaded with antioxidants and healthy fats, and it is so delicious.
A great way to brighten our day is to make our meals vibrant as well as delicious. This salad certainly checks both of those boxes. Serve this healthy Paleo/Whole30 friendly salad as is, or add chicken or steak to round out the meal.
Ingredients:
Dressing
1/3 cup extra virgin olive oil
3 tablespoons lemon juice (use Meyer if available)
1 teaspoon honey, or a few drops of liquid stevia (whole30 please omit)
1 teaspoon poppy seeds
sea salt and fresh black pepper, to taste
Salad:
6 cups butter lettuce (or other tender lettuce)
2 tangerines, peeled and sliced
1-2 blood oranges, peeled and thinly sliced
1/2 a grapefruit, peeled and thinly sliced
2 ripe avocados, peeled and thinly sliced
1/4 cup roasted, salted pistachios (chopped)
1/4 cup pomegranate seeds