Cherry Limeade Cupcakes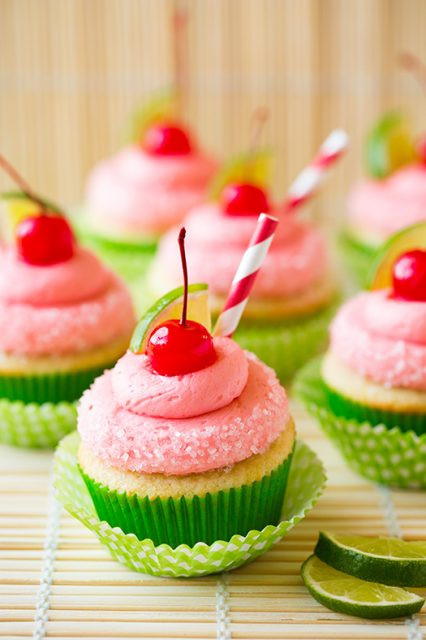 These cupcakes have the best blend of flavors - made with bright tart lime meets sweet fruity cherries. They're fluffy and topped with a dreamy frosting. I'll admit it, I'm obsessed with cherries lately. I think this is the third cherry post within a week. But really who could complain about that, right? Cherries are one of my favorite fruits.
They always remind me of the beach because I always take along a bag of cherries to snack on (and licorice and a bag of potato chips that always ends up getting full of sand).
I love how these are full of fresh lime flavor, thanks to their generous amount of fresh lime zest, a bit of fresh lime juice and a simple lime syrup glaze which is brushed along the tops of the freshly baked cupcakes.
The frosting screams cherry, not only with it's color but with the sweet flavor of the maraschino cherry juice mixed in. And of course these couldn't be cherry limeade cupcakes unless they were finished atop with a cherry. Who could resist them?
Ingredients:
3/4 cup all-purpose flour
3/4 cup cake flour
1 tsp baking powder
1/8 tsp baking soda
1/4 tsp salt
3/4 cup + 2 Tbsp granulated sugar
1 Tbsp lime zest
1/2 cup unsalted butter , softened
1 large egg
2 large egg whites
1/2 tsp vanilla extract
1/4 cup + 3 Tbsp buttermilk
1 1/2 Tbsp fresh lime juice
Simple Syrup
1 Tbsp fresh lime juice
1 Tbsp granulted sugar
Frosting and topping
3/4 cup butter, soft (I used 1/2 cup unsalted and 1/4 cup salted)
2 1/4 cups powdered sugar
Few drops red food coloring (optional)
3 Tbsp maraschino cherry juice
12 maraschino cherries , lime slices and sugar crystal sprinkles