Watermelon Popsicles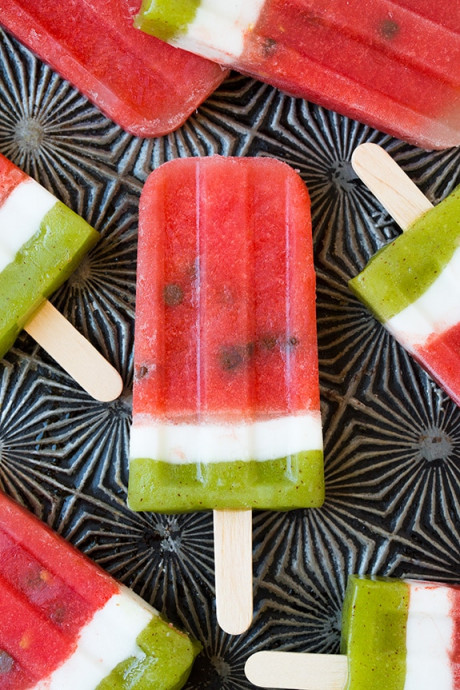 A recipe people of all ages will love! Made with fresh watermelon and dotted with mini chocolate chips to mimic seeds, then layered with a coconut milk layer and a fresh kiwi layer. So delicious and so refreshing! I absolutely love these layered Watermelon Popsicles, as did my kids! They are made with mostly fruit, a few chocolate chips and then the white portion is coconut milk. So as long as you use good, ripe fruit the flavors will be utterly delicious and irresistibly refreshing.
I made them a few times trying to find the best way to keep the layers from blending but you'll probably always find just a little bit even if you are keeping the sides very clean. Another thing that will likely be hard to avoid is that some will be more "water logged" than others (as in some of them will have a little separation on the bottom because of the high concentration of water in watermelon) leaving a lighter portion on top of a few of them, but they will still taste just as delicious – it's just watermelon juice.
If you'd like you could also cut up little raisins to use for the seeds but I always love a little chocolate.
Light coconut milk would probably work fine too, it won't be quite as white and not quite as creamy but should still be delicious.
I hope you all have a fun summer! And you might as well start it out with these, right? They take a little bit of extra effort and patients because of the layers but they are so worth it.
If you don't already have a popsicle mold, this is the one I have and it works great!
Ingredients:
19 oz cubed seedless watermelon (about 3 1/2 cups)
5 1/2 Tbsp granulated sugar , divided
1 Tbsp fresh lemon juice
1/2 cup canned coconut milk , well shaken
13 oz kiwi (about 6 medium)
1 Tbsp mini chocolate chips