Salmon Salad with Basil Vinaigrette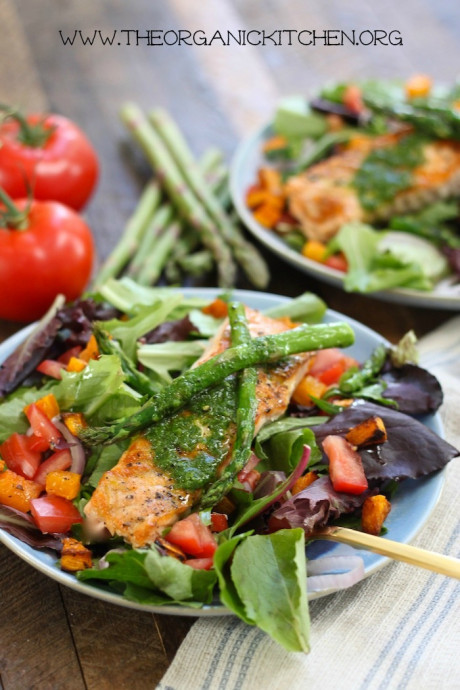 Every once in a while I make a salad that is so delicious and beautiful I even surprise myself. This Salmon Salad with Basil Vinaigrette is one of those times. Truly, it's amazing.
Crispy on the outside, tender on the inside, seared salmon served on a bed of roasted butternut squash and greens then drizzled with gorgeous green basil vinaigrette. This fresh basil dressing is made using organic extra virgin olive oil, Champagne vinegar and fresh basil leaves mixed in a food processor or blender. Look at that color! And it literally takes two minutes (or less) to make. You are certainly welcome to use already peeled and diced butternut squash purchased at the market. If you do, be sure it's cut fresh on site and not packaged and sitting on a shelf for days.
To roast, simply place squash on a parchment covered rimmed cookie sheet, drizzle lightly with olive oil, sprinkle with sea salt and pepper, toss and place in oven, upper third rack, until edges are golden. I serve roasted butternut squash all by itself as a side dish all the time. I love to sear my salmon on the cook top and then I finish in the oven. If you are not a fan of the skin there is a very simple way to remove it, I simply slide my fish spatula between the skin and flesh and the meat lifts right off leaving the skin in the pan. Assemble and you have a beautiful complete meal salad which is high in protein, healthy fats and is both Paleo/Low Carb/Whole 30 compliant!
Ingredients:
For Butternut Squash:
4 cups Butternut squash, peeled, cut into 1/2" cubes and roasted
1-2 tablespoon olive oil
sea salt pepper
For Salad:
4 cups baby greens
1 small tomato diced
1/2 a small red onion, thinly sliced
12 asparagus spears, 8 cut 3-4" long, the rest cut into 1" pieces
Dressing:
1 large clove garlic. peeled
1/2 cup extra virgin olive oil
1/4 cup Champagne Vinegar
2 cups basil leaves
generous pinch sea salt
pinch freshly ground pepper
pinch red pepper flakes
For Salmon:
Four salmon filets
sea salt
pepper
olive oil