Feta Dip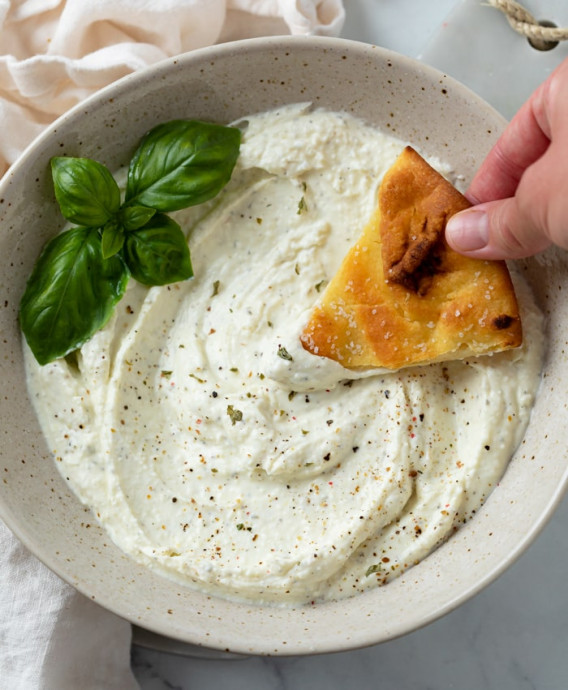 This whipped garlic Feta Dip is easy to make with cream cheese and Greek yogurt or sour cream! It has a hint of lemon juice, simple seasonings, and can be garnished with diced tomatoes. Serve this warm or cold with crackers, pita chips, or vegetables for dipping! This Feta Dip is something that you can make in minutes and serve immediately for guests. I love to toast up some Naan bread in the oven with olive oil and a sprinkle of salt for dipping! You can also use Pita Chips, crackers, crusty bread, or vegetables!
Do you have fresh garden cucumbers? That is another favorite for serving with this dip. If you find yourself in need of a Greek Yogurt substitute, I would recommend using equal amounts of one of the following:
Sour cream. This would be my first choice, I make this substitution often.
Mayo can also be used.
Cottage Cheese is another alternative, the consistency won't be quite the same, but it'll have great flavor. Store in a covered airtight container in the fridge for up to 5 days.
Ingredients:
4 oz cream cheese, at room temperature
6 oz. crumbled Feta cheese, equal to 1 + 1/3 cup
⅓ cup plain Greek yogurt, see notes for substitutions
2-3 cloves garlic
1 Pinch dried dill
1 teaspoon dried oregano
1 tablespoon lemon juice
Optional Garnishes
1 Roma tomato, diced
Fresh Basil
Freshly cracked black pepper, to taste