Summer BBQ Chickpea Veggie Burgers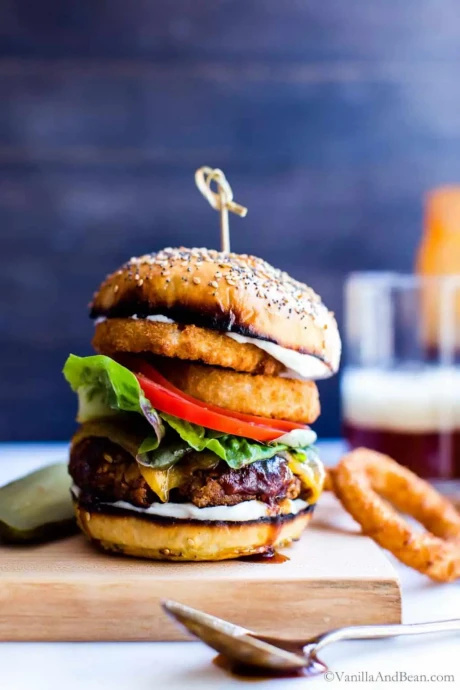 A flavorful veggie burger that can be grilled or pan fried. Delicious, texture rich and with that BBQ flavor we crave! This Chickpea Veggie Burger Recipe is easy to make, freezer friendly and is make ahead ready! Pile your favorite toppings on, we're making vegetarian and vegan chickpea burgers y'all! This recipe is also easily gluten free. Easy to pull together and ideal for meal prep, these hearty vegetarian and vegan chickpea (aka garbanzo beans) veggie burgers are full of wholesome, good for you ingredients.
Homemade chickpea veggie burgers are the ultimate comfort food.
Not the kind you can buy in the store, but the ones you make at home, prepared and frozen ahead of when you need. Pull em' out of the freezer a few hours or the morning before you need them, and wallah! Toast the buns, fix the toppings and whip up some fabulous homemade oven fries and dinner is done!
Ingredients:
For the Patties:
1 C (110g) Walnuts
1 tsp Vegetable Oil like olive oil
1/2 C (60g) Red Onion small dice
3 C (265g) Cauliflower Florets in medium chunks, about 1/2 a medium head to yield about 2 C 'riced' cauliflower
2 C (439g) Cooked Chickpeas one can, drained, rinsed & patted dry
3/4 C (75g) Rolled Oats
1/4 C (30g) Chickpea Flour aka Garbanzo Bean Flour (or sub whole wheat flour)*
2 Tbs each, Prepared Yellow Mustard and Ketchup
1 tsp Liquid Smoke
2 tsp Vegan Worcestershire Sauce
3 tsp Smoky Paprika
1/2 tsp Garlic Granules or garlic powder
1 1/2 tsp fine Sea Salt
A few shakes of Tabasco optional
Vegetable Oil for frying or grilling, I like olive or coconut
Share With (optional):
Smoky Bourbon Homemade BBQ Sauce or favorite prepared BBQ sauce
Favorite Burger Buns
Cheese of Choice
Lettuce, tomato, pickles, onions or onion rings, mustard, mayo.