Patriotic Ice Cream Sandwiches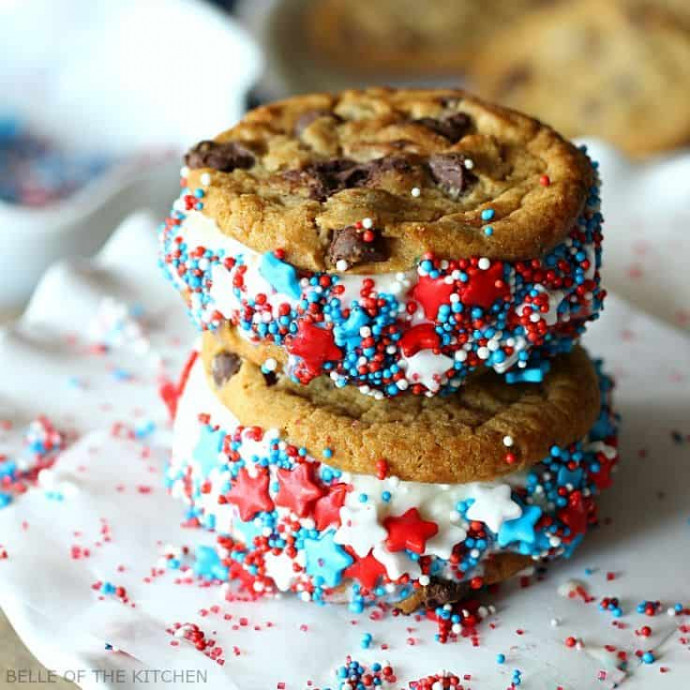 These easy Ice Cream Sandwiches are the perfect treat for summer time. Dip them in red, white, and blue sprinkles to enjoy at your 4th of July celebration! Happy summer y'all! I hope all of you had a nice time celebrating Father's Day yesterday and also enjoyed kicking off summer! I'm really looking forward to having some time to just relax and unwind with my little ones over the next couple of months. My son just graduated from preschool a couple of weeks ago (tear!), so I'm trying to soak up all of those sweet, fun moments with him before Kindergarten starts.
Right now, playing in the pool is one of his favorite things to do, so we will probably be spending a lot of time by the water this summer. And what do I enjoy most about pool time? Oh, that's easy. The pool FOOD! You're going to love how simple these are to make. Three ingredients; that's it! If you decide to make your cookies homemade there will be a few more ingredients, but I went the easy route and picked mine up from that wonderful, lovely store called Costco.
Besides cookies, the only other things you need are vanilla ice cream and some sprinkles. I made these with red, white, and blue sprinkles, so they would be the perfect treat for the 4th of July!
Ingredients:
Chocolate Chip Cookies,, homemade or store bought
Vanilla Ice Cream
Red,, White, and Blue Sprinkles